A Queen For All Seasons: A Celebration of Queen Elizabeth II on Her Platinum Jubilee by Joanna Lumley
My review
3/5 stars
Joanna Lumley - love her. The Queen - love her. Surely this book was a winning formula for a reader like me. Sadly not as much as I'd hoped, though I did enjoy reading it.
This was a very interesting cross-section of stories about the Queen from all walks of life. There were various sources - some familiar names and some people from more everyday walks of life. Most were interesting in their content and provided insight into the Queen's character or experience, but there were some that didn't feel like they added much to the story that the author was trying to tell.
The stories themselves felt a bit disjointed in how they were joined together. They were grouped based on a particular theme, which meant that the stories jumped all over the timeline of her reign. This was challenging to keep on top of at times and took away from the reading experience a little.
What I really enjoyed about the book was Joanna Lumley's parts. She is clearly a woman very much enamoured of her sovereign - everything she wrote was full of compassion and awe for the woman in charge. She wrote about personal experiences with such feeling. I was disappointed not to hear more of her voice throughout the book, the snippets she gave were brilliant and more of them would have really bought the book together.
Book blurb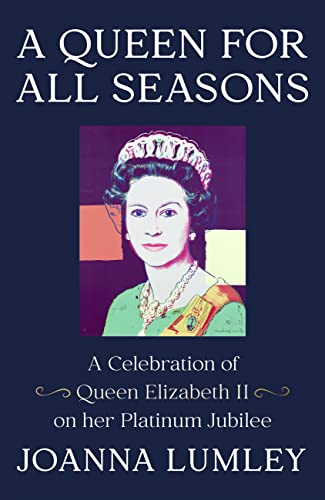 A sparkling celebration of our much-loved Queen Elizabeth II for her Platinum Jubilee including special writings and illuminating insights around key moments in her 70-year reign, introduced and edited by her biggest fan Joanna Lumley.

In 2022 Queen Elizabeth II celebrates seventy years as Queen and Head of the Commonwealth. She is Britain's longest reigning monarch and the very first to celebrate a Platinum Jubilee.

A Queen For All Seasons, edited and introduced by Joanna Lumley, is a perceptive, touching and engaging tribute to this unique woman. A treasure chest of first-hand writings, insights and snapshots of the Queen during key moments of her reign to form a vibrant portrait of the woman herself and the extraordinary role she plays.

Joanna Lumley guides us as we meet Princess Elizabeth in 1952, aged just twenty-five, and about to become Queen, and brings us through to the present day when, as our matriarch, the Queen keeps the national ship steady, including in moments of crisis and suffering. Here are unique perspectives into some of the most fascinating aspects of the Queen's life - her role as head of state at home and abroad, her private passions and public interests and a bird's-eye look at key events that have held the nation together and the Queen in our affection throughout Britain and beyond.

This book is a special and unique portrait of our constant Queen in an ever-changing world.
More...
You can buy the book here now. It was published by Hodder & Stoughton.
The author doesn't appear to have a website or any social media, so for more on her, head to her Goodreads page.