An Offer From A Gentleman (Bridgerton #3) by Julia Quinn
My review
5/5 stars
I was apprehensive about reading Benedict's story because he hadn't really featured much in the previous two books, but it turns out there was nothing to be nervous about.
In the earlier stories in the series, The Duke & I and The Viscount Who Loved Me, it has been the male character who had something to overcome to make the relationship work, but this time it was Sophie, the female lead. She was put in the position of Cinderella from the prologue, giving her instant vulnerability and inspiring sympathy for her. She showed a strength of character that made her likeable and a set of ideals that made her respectable. In short, she felt truly human and I was rooting for her from page 1.
As a side note, I really enjoyed that this story was so obviously based on Cinderella. It's a much beloved story that has been revisited hundreds of times, but I never get tired of reading variations of it. This one had the added complication of Sophie also not having a very loving father, meaning she had extra emotional turmoil to get past. There were also several other tweaks made to the well-known story to make this version feel fresh and give it the familiar Bridgerton/Julia Quinn style.
Benedict was a wonderful Prince Charming, showing chivalry, humour, stubbornness and weakness in equal measure, allowing him to live up to his supposed nickname - charming! It was both fascinating and exasperating to watch him show such an unwavering loyalty to someone he only spent half an hour with, but it in the end it made him more endearing.
The confidence to tease their potential love interests and each other seems to be something that runs deep in the Bridgerton blood, but it is only ever depicted as a sign of sincere affection. It has been lovely to watch each relationship build based on mutual wit and attraction, but this is particularly true of Benedict and Sophie given that they had a social class divide to deal with as well.
I relished in seeing more of Mother Bridgerton in this book. It's always been evident that she has strong bonds with each of her children, but it was particularly clear in Benedict's story, with her knowing, conspiratorial smiles and the vital role she played in the book's conclusion. She's always hinted that she would have her children marry whoever made them happy and it was good to see her following through on that for Benedict.
As always, Lady Whistledown provided humorous interludes to help guide the story - my personal favourites were the ones that alluded to Lady Rosamund's efforts on the marriage market. The end of this book indicated that Lady Whistledown plays a bigger role in the next book, which is Colin's story. If this is true, I'm excited, because these two have been the wittiest peripheral characters so far, so it will be great to see them play off one another. I've been looking forward to Colin's story throughout my whole Bridgerton reading experience so far, so much the better if Lady Whistledown is key to it.
Dearest reader, the ton has been reliably informed that the next review is due imminently...
Book blurb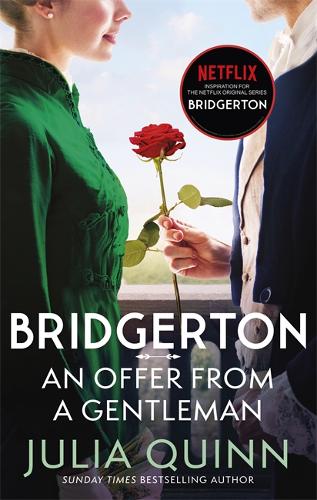 Sophie Beckett never dreamed she'd be able to sneak into Lady Bridgerton's famed masquerade ball—or that "Prince Charming" would be waiting there for her! Though the daughter of an earl, Sophie has been relegated to the role of servant by her disdainful stepmother. But now, spinning in the strong arms of the debonair and devastatingly handsome Benedict Bridgerton, she feels like royalty. Alas, she knows all enchantments must end when the clock strikes midnight.
Ever since that magical night, a radiant vision in silver has blinded Benedict to the attractions of any other—except, perhaps, this alluring and oddly familiar beauty dressed in housemaid's garb whom he feels compelled to rescue from a most disagreeable situation. He has sworn to find and wed his mystery miss, but this breathtaking maid makes him weak with wanting her. Yet, if he offers her his heart, will Benedict sacrifice his only chance for a fairy-tale love?
More...
You can buy the book here now. It was published by Piatkus.
For more on the author, you can check out her website, follow her on Instagram, or head over to her Goodreads page.