Capturing Emilia by Brooke Adams
My review
2/5 stars
This was a very fast one-sitting read that didn't overly impress me if I'm honest. I like the premise of the story - the blurb was the reason I requested it on NetGalley - but the execution fell a little short in my opinion.  

I felt thrown into the middle of a story, which meant that instead of getting a chance to immerse myself in it properly, I felt like I was playing catch up for the first 10-15 pages (doesn't sound like a lot, but the book is only 79 pages long). Because the book was on the shorter side, the pace of the story felt rushed - it jumped from the characters just having met to them declaring their love for each other in the time it took to blink an eye - I couldn't keep up with all the time jumps that were supposed to be happening for the story to make sense at that pace.  

I liked both main characters - Emilia was charming, if a little judgemental, and Charles was dashing but misunderstood - but their budding (speedy) romance was undeservedly let down by some of the language used to describe their feelings; it felt antiquated and jarred with the tone of the characters.  

My character summaries above reminded me of Lizzie and Darcy from Pride and Prejudice when I was writing them. That's what the book felt like - Pride and Prejudice on speed, and it just didn't hit the right mark for me.  

*I received an electronic advanced copy of this book through NetGalley in exchange for an honest review.
Book blurb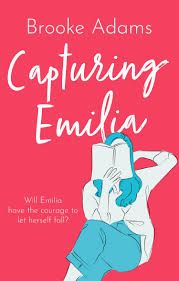 Emilia, 29, has left the suburbs and a dead-end job to make a fresh start in London. Recently qualified as an archivist, she is getting over her past relationships and freeing her mind from her obsession with New Age thinking. She soon finds the perfect job in a heritage library in Mayfair where she unexpectedly meets Charles. Emilia is initially repelled by him given their opposite personalities, while he falls for her from the very beginning.

Charles, 38, is a wealthy Mayfair-based lettings agent to the rich and famous, not quite the kind of boyfriend Emilia had in mind. He is charming, worldly, adept, and likes to enjoy the finer things in life. Charles realises that he has truly found a real love but will he be tempted to return to his old ways?

This love story unravels within the urbane and sophisticated setting of London's Mayfair. Will Emilia have the courage to let herself fall? Even though she's convinced that this isn't the way it was meant to be.
More...
You can buy the book here now. It was published by Matador.
If you want more info on the author, you can find her on Goodreads.