Cathy's Christmas Kitchen by Tilly Tennant
My review
4/5 stars
This year has gone by in a somewhat traumatic blur, so of course it felt natural to pick up my first festive read of the year in September!

What I liked most about this particular festive read is that the Christmas element of it wasn't overplayed or even particularly prominent. It was a quiet undercurrent through the story, that served to add an extra degree of cosiness to the story without overwhelming it. It all took place in the lead-up to Christmas but the focus was absolutely on the characters and the baking.

The character development throughout the story was brilliant. Each and every character was given some degree of back story or motive to help the reader understand their actions - I didn't feel like any of the characters were superfluous. Smaller characters such as Erica, Fleur and Iris felt as real as the characters at the heart of the story, which made the world more immersive and alluring.
I found myself particularly interested in the Tansy character; she was introduced as problematic and enigmatic, which helped give some degree of drama to an otherwise comfortably-paced plotline. I appreciated the slow reveal of her character, as it played a big part in keeping me turning page after page in an attempt to get to the end to find out more about her. Matt was a charming lead, with an admirable sense of duty, and his own thought-provoking history. Cathy was immediately endearing (helped by the opening to her story garnering her some sympathy) and maintained a quiet dignity throughout the story. While she was timid and reserved, something that can easily become formulaic in stories like this, she remained likeable throughout.

My only issue with the book was the speed at which the budding romance was introduced; it's an odd mix of leisurely and rushed. Matt comes in relatively late in the book compared to others of this genre that I've read, and the pace at which they move, while realistic, left me feeling like the ending was anticlimactic; it crept up on me and caught me by surprise. The epilogue went some way to wrapping things up with a neater bow, but I felt cheated out of the development of their relationship past the first couple of (tame) dates.

It was a sweet read, and I enjoyed the time spent in Cathy's Christmas Kitchen, I just wish I'd found a more fulfilling ending. The book is marketed as a romantic comedy, but there was more focus on Cathy developing her confidence - it was a great plot, but not what I was expecting from the blurb.
*I received an electronic advanced copy of this book through NetGalley in exchange for an honest review.
Book blurb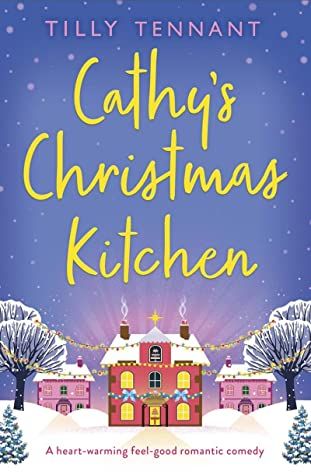 As the snow flutters down in the little village of Linnetford, escape to a cosy farmhouse kitchen, scented with the rich aromas of fruitcake and gingerbread, where a love of baking is about to unite two lonely hearts…

Cathy cooked at her mother's side her whole life and could bake a fairy cake before she could ride a bike. Now she is facing her first Christmas without her beloved mother, she's determined to use her memories for something positive. She decides to organise a weekly cooking class, sharing her mother's precious recipes with other lonely souls.

There's just one small spanner in the works: teenager Tansy, who attends Cathy's classes even though she's rude to everyone there and seems to hate every minute. Cathy is poised to ask Tansy to leave, but her uncle, physiotherapist Matt, begs her to give the teenager another chance. And Cathy can't resist Matt's sparkling hazel eyes and incredibly kind heart…

But just as Cathy is feeling she might find joy again, her ex returns to Linnetford, desperate for a second chance. With Matt becoming distant as his life gets more complicated, it seems so easy to return to the safe embrace of someone she knows so well. Can Cathy avoid the temptation of falling back in love with the man who broke her heart and let Christmas bring her the greatest gift – that of happiness?
More...
You can buy the book here from 1st October. It's being published by Bookouture.
For more on the author, you can follow her on Instagram or Twitter, head over to her website, or check out her Goodreads page.