Happily Ever After (Bridgerton #9) by Julia Quinn
My review
4/5 stars
And so this is it, the last Bridgerton book. This is different from the others, in that it is a collection of epilogues for each sibling.
I blasted through this in one sitting - the nature of the stories make them easy to read quickly. The little snippets were a nice little window into how each couple progressed after their happy ever after, but I will admit that while I loved some of them because of what they offered to the overall story (I think Gregory and Lucy's was my favourite), some of them felt a little pointless (Kate and Anthony's didn't really provide anything new or interesting for their story).
The Violet-centred novella was a lovely surprise. It was great to get more insight into her as a person rather than her as a mother of the Bridgerton siblings. Watching her relationship develop with Edmund and then watching as that relationship ended brutally and suddenly was brilliantly depicted in such a short space. I really enjoyed this part of the book and it made up for some of the more disappointing epilogues.
It was a nice enough way to wrap up the series, but it's not critical reading for the series to feel whole.
Book blurb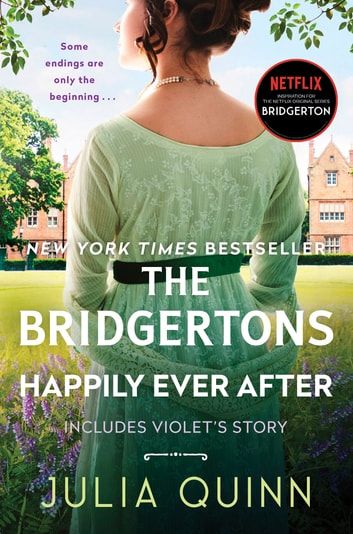 Once upon a Regency time, an author created a family . . .

But not just any family. Eight brothers and sisters, assorted in-laws, sons and daughters, nieces and nephews, (not to mention an overweight corgi), plus an irrepressible matriarch who's a match for any of them . . . These are the Bridgertons. Through eight bestselling novels, readers laughed, cried, and fell in love.But they wanted more.

And so the readers asked the author . . .

What happened next? Does Simon ever read his father's letters? Do Francesca and Michael become parents? Who would win in a Pall Mall grudge match?

Does 'The End' really have to be the end?

This is a collection of Julia Quinn's funny, heart-warming 'second epilogues,' which are included at the ends of each novel. This collection also includes plus a brand new novella about none other than the wise and witty matriarch: Violet Bridgerton herself. So get to know the Bridgertons all over again - because Happily Ever After is a whole lot of fun . . .

More...
You can buy the book here now. It was published by Piatkus.
For more on the author, you can check out her website, follow her on Instagram, or head over to her Goodreads page.