Happy: Finding Joy In Every Day And Letting Go Of Perfect by Fearne Cotton
My review
3/5 stars
Fearne Cotton has built herself quite a reputation as a wellness advocate over the last few years. Her Happy Place podcast has been so successful that it's spawned its own festival. She has also written a series of books documenting her own experiences with mental health and wellness; Happy was the first one to be published so it's where I've decided to start.
I chose to listen via audiobook, which both helped and hindered my reading experience. The biggest positive to listening to the book is that it is narrated by Fearne Cotton herself. Her passion for her subject matter and her authenticity are abundantly clear in how she reads through the material. Her voice proved to be soothing and calming, and helped bring focus and clarity to what was being said.
The disadvantage is that a large portion of the book's content was deemed to be not audiobook-friendly, meaning that I very quickly found the phrase "you can find this in the accompanying PDF" irritating. There are, of course, some points of this that I agree with, as the book includes several charts, diagrams and questionnaires for the reader to fill out as they progress through the book. There are other parts, however, such as interviews conducted by the author, that I feel could have been included without too much difficulty and would have added more variety to the reading experience.
The content itself is nothing groundbreaking but it's very upbeat in its tone and message. Fearne makes it clear in her writing that she has made a choice, however difficult and challenging it may be at times, to keep herself facing towards the sun and pay as little attention to the shadows as possible. I appreciated the simplicity of her message - that happiness and joy are more often found in life's small and quiet moments than in the big, exhilarating times we all seem to constantly, fruitlessly, search for; it resonated deeply with me, especially at this moment in my life, when everything has become more insular and my entire focus is on my family.
On the flip side of that is the fact that her unswerving positivity sometimes felt at odds with her experiences with depression and anxiety. I appreciate that she's in a different headspace now, and she's still being honest and open about her experience. I guess I just expected more emphasis on how she got out of those "black pits" (as she calls them) rather than how she stays out of them now. In fairness, she's upfront about the fact that she's still not completely comfortable talking about those moments in her life, so I suppose that's her way of processing it.
It was a likeable enough book that gave a better insight into one particularly well-known person's experience with mental health, and I appreciate her being courageous enough to share what she's learned so far. It was a bit hit and miss in terms of content, but I still intend to read her follow-ups, Calm and Quiet, so keep an eye out for their reviews in the future.
Book blurb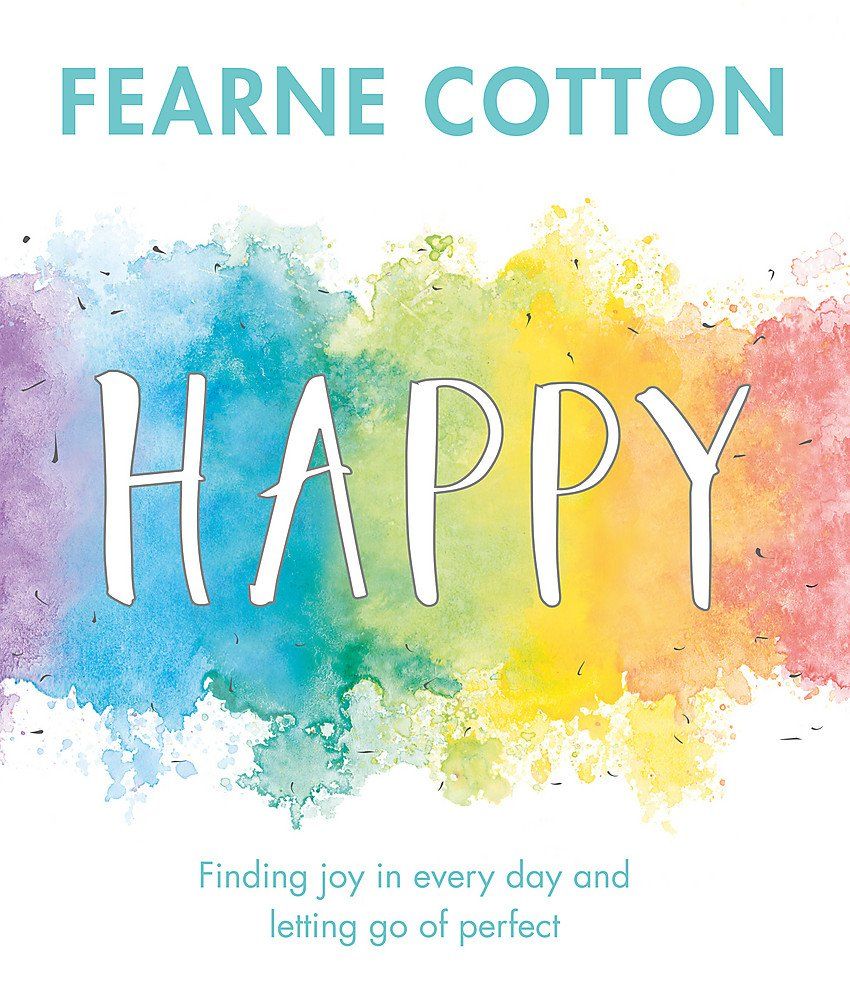 "This book is a way to release what's going on inside your head and to keep heading towards the good stuff. The simple stuff. The stuff that's going to really hit up that happiness on a deep and nourishing level. Whether you dip into these pages every now and then when you feel you need it, or use it daily as a positive exercise, I hope it brings you much relief, joy and calm. Amen to the pen." - Fearne Cotton

For many of us, life can feel like it's moving too fast with pressure bearing down on us from all sides - whether that's from school or work, family or social media. As a result, we find ourselves frazzled, lost and - too often - feeling blue.

It's a subject close to Fearne's heart. Drawing on her own experiences and including expert advice, HAPPY offers practical ways of finding joy each and every day. Happiness isn't a mountain to climb, it's just one foot in front of the other on the path of life, and here you'll find little steps that will help make the differences that count. With workbook elements to help you start and end the day well; get in touch with your creative side; and find peace through written exercises, simple practical ideas and visualisations, these are daily tricks and reminders to help you unlock that inner happiness.
More...
You can buy the book here now. It was published by Orion Spring.
For more on the author, you can head over to her website, follow her on Twitter or Instagram, or check out her Goodreads page.