I Carried a Watermelon: Dirty Dancing & Me by Katy Brand
My review
5/5 stars
I have loved Dirty Dancing all my life. I can't remember how old I was when I first took notice of it, but I don't remember not knowing about it so I must have been pretty young. I've lost count of the amount of times I've seen it and I often cite it as my favourite film (though there is some stiff competition in the top 3) so when I spotted this as a recommended read on Amazon I was very excited at the prospect of someone writing a book about how much they also loved the film.

I decided to listen to this as an audiobook because something about having Katy Brand read it herself made me believe that it would be even more enjoyable than just words on a page. I was right. Her enthusiasm for the story is evident in her tone and her emotion as she reads. The book being marketed as a love letter to Dirty Dancing is not an exaggeration, Katy Brand really is in love with this film and it has impacted every area of her life.

The content was just the right mix of personal anecdotes about particular moments of the author's life that either reminded her of or reconnected her to her love of Dirty Dancing and mini-essays on the political, social and economic undercurrents that run through the story and often go unnoticed. The anecdotes served to keep us rooted in the fact that this is about the impact a film can have on a person's life, while the film-based content provides new insights and easter-eggs that I seem to have missed despite having watched this film dozens of times in the last 20-odd years. What impressed me most about this book is how it made something so familiar to me appear in a new light after all this time - that's no easy feat for any writer to achieve and is a testament to Katy Brand's passion.

The writing was honest, warm and funny, and everything wrapped up in one very appealing package meant that I listened to the entire thing in one afternoon! I recommend this for anyone - people who already love Dirty Dancing will feel right at home in exploring the film with a fresh lens, and people who have never watched it will absolutely want to after reading this book.
Book blurb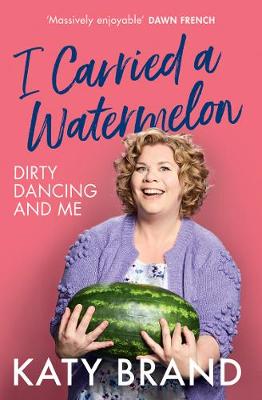 I Carried a Watermelon is a love story to Dirty Dancing. A warm, witty and accessible look at how Katy Brand's life-long obsession with the film has influenced her own attitudes to sex, love, romance, rights and responsibilities.

It explores the legacy of the film, from pushing women's stories to the forefront of commercial cinema, to its 'Gold Standard' depiction of abortion according to leading pro-choice campaigners, and its fresh and powerful take on the classic 'coming of age' story told from a naïve but idealistic 17-year-old girl's point of view.

Part memoir based on a personal obsession, part homage to a monster hit and a work of genius, Katy will explore her own memories and experiences, and talk to other fans of the film, to examine its legacy as a piece of filmmaking with a social agenda that many miss on first viewing. One of the most celebrated and viewed films ever made is about to have the time of its life.
More...
You can buy the book here now. It was published by HQ.
For more info on the author, you can follow her on Twitter, check our her website or head over to her Goodreads page.