Just Like In The Movies by Heidi Rice
My review
2/5 stars
Normally I adore books like this, it's why I requested a copy from NetGalley, but I struggled with this one. It was a slow burner that I felt I had to push myself to finish, feeling relief when I was done.

A good character is key to any story, and while the leads had some good qualities and moments together, they weren't strong enough to hold the story for me. A well-written character is subtle, with their personality being seeped into each page, but in this book the author seemed to need to draw explicit attention to the traits she wanted the reader to focus on.

[SPOILER] There were a few sex "scenes" throughout the story and the graphic nature of them caught me off guard at first. I'm not bothered by that kind of thing in a book, but those who aren't should be warned. For me, some of the language used during these particular pages felt juvenile and took something away from my reading experience - terms such as "bonkfest" and wanting to "feast" on someone made me cringe rather than buy in to the story at that moment.

I did enjoy the movie references throughout, and how each part of the story tied together with a well-known movie. The parallels were cleverly done and played a large part in keeping me reading to the end.

I'm sure there are plenty of readers who would thoroughly enjoy this book, but it wasn't for me on this occasion.

* I received an advanced copy of this book for free from NetGalley in exchange for an honest review.
Book blurb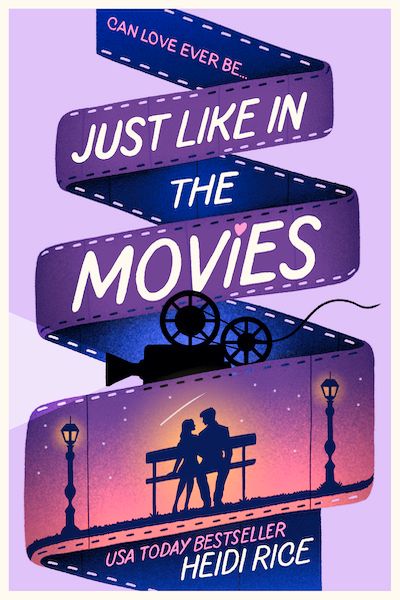 The Wizard of Oz (1939)

Ruby Graham's verdict: I want to live in Oz, where danger is defeated by friendship, your dreams are always in glowing Technicolor and you can get a pair of absolutely gorgeous ruby slippers simply by landing a house on a hag!

Luke Devlin's verdict: Flying monkeys? Seriously?

The late Matty Devlin was so much more than Ruby Graham's boss. He was her best friend, her father-figure, and she is showcasing a series of his favourite classic movies at the independent cinema in Notting Hill which was his life's work … and of which she is now part owner.

Matty left the other half of The Royale to his nephew, Luke, the elusive Manhattan property developer and rumoured son of a Hollywood icon.

It's all beginning to sound like the plot of one of Ruby's beloved films until it becomes clear Luke is no more interested in swooping in to save the crumbling Royale than he is in talking about his famous father. He's bad-tempered, cynical, and he couldn't care less about the cinema!

But saving The Royale is about far more than just Matty's legacy. The Royale is the only place where Ruby gets to live in a world of dreams and happy endings, a place where there are no lost causes, and where falling in love is just like in the movies … or is Luke about to change all that?
More...
You can buy the book here. It will be released on 12 March 2021 by One More Chapter.
For more on the author, you can head over to her website, follow her on Twitter or check out her Goodreads page.