Mad Girl: A Happy Life With A Mixed-up Mind by Bryony Gordon
My review
5/5 stars
I've had this book on my bookshelf, waiting to be read, for 2 years now. The reason I haven't read it is because I was scared that it would make my own OCD worse - classic OCD! Turns out I should have read it a long time ago...

This was a wonderfully vulnerable, honest and witty look at what it's like to live with an often misunderstood mental illness. This is the first time I've come across someone who was willing to talk so publicly about the kind of dark thoughts that have plagued my mind (and I'm sure, many others), and add so openly to the work that goes into dispelling the myth that OCD is just people who really like things to be clean and tidy.

When reading this book, I felt a fantastic sense of relief that someone else's mind works the same as mine; at certain points throughout the book I felt like the author had reached inside my head and was voicing my thoughts. She does a great job of externalising the endless stream of consciousness that an OCD-sufferer is privy to everyday. Here are a couple of snippets from throughout the book to help illustrate:

"The headaches I was experiencing might be a brain tumour - no, they probably weren't, but that 'probably' kept on bothering me, with it's potential for catastrophe."

"My brain is incapable of relaxing and accepting that, in all probability, everything will be OK. It spits at comforting probabilities and throws back terrifying ones. It answers 'that's unlikely' with endless bloody 'what ifs?' One reassurance only leaves space for a new, more terrifying anxiety."

She wrote with such warmth and authenticity that even the most fear-inducing thoughts that she discussed felt a little less intimidating to someone whose mind's favourite thought is "but what if that happens to me". What I most liked about her writing though was that she expects no sympathy, nor does she ask for it. The story she has written is filled with difficult moments and big fights, but she doesn't want anyone feeling sorry for her, she just wants to share her experiences in the hope that they help someone else.

For me, they have helped. Not because they gave me some huge epiphany about my own struggle that will change my life, but because I got a couple of helpful tips, such as giving the thoughts in my head a name and a face, to help externalise my thoughts. Mainly though, it gave me some gentle reassurance that I'm not as much of a freak as I thought I was, and that it's ok for me to talk about the thoughts in my head without worrying that someone is either going to section me or arrest me. I appreciate the effort that it must have taken for the author to write all of this down, let alone share it with the world; it's a level of bravery and courage that I'm slowly working my way up to when it comes to my own mental health.

This is an important book for anyone who struggles with their mental health to read, but also for anyone supporting someone with their mental health, not because it's some magical self-help Bible that will fix someone's life, but because it humanises the experience with a healthy dose of humour and wit.
Book blurb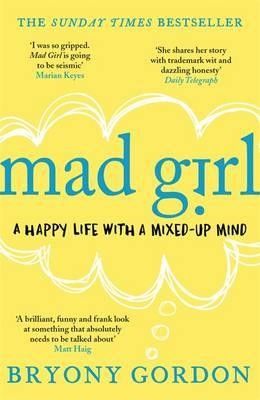 Bryony Gordon has OCD.

It's the snake in her brain that has told her ever since she was a teenager that her world is about to come crashing down: that her family might die if she doesn't repeat a phrase 5 times, or that she might have murdered someone and forgotten about it. It's caused alopecia, bulimia, and drug dependency. And Bryony is sick of it. Keeping silent about her illness has given it a cachet it simply does not deserve, so here she shares her story with trademark wit and dazzling honesty.

A hugely successful columnist for the Telegraph, a bestselling author, and a happily married mother of an adorable daughter, Bryony has managed to laugh and live well while simultaneously grappling with her illness. Now it's time for her to speak out. Writing with her characteristic warmth and dark humour, Bryony explores her relationship with her OCD and depression as only she can.

Mad Girl is a shocking, funny, unpredictable, heart-wrenching, raw and jaw-droppingly truthful celebration of life with mental illness.
More...
You can buy the book here now. It was published by Headline.
If you want to know more about the author, she has a Mental Health Mates website, or you can check our her Instagram and Twitter, listen to her podcasts or head over to her Goodreads page.