Meet Me At The Wedding (Meet Me #4) by Georgia Toffolo
My review
5/5 stars
I've read the whole Meet Me series by Georgia Toffolo over the past 2 years and I've enjoyed every single instalment; this final one was no exception.
Having read the others, I felt somewhat familiar with the lead in this book, Lily, but she's been on the sidelines in all the other books, so it was great to get a deeper look at her character. She ended up being the most likeable of the four friends for me; her strength and sass in the face of an obvious lack of confidence was endearing.
I wasn't expecting to like Henry as a character. The first few interactions with him felt a bit stilted and he has a less than glowing history in the other books, but he grew on me very quickly. It became apparent early on that he was going to be a positive force in Lily's journey, and the back-and-forth between their characters was very amusing to read. Their chemistry was well-written and I found myself rooting for them much earlier than I anticipated.
In terms of the friendships at the heart of the series, it was lovely to finally have scenes where all four friends were in the same place at once, rather than conversing on one of their Lost Hours phone calls. Their support of each other continued to be the central theme for the story, and was charmingly portrayed in this book more than in the others considering the role that Henry played in all of their lives.
The epilogue was a lovely way to end the series, with happy situations set up for every couple and a sense of familiarity and camaraderie that we all hope for in the friendships we have in our own lives.
Wonderfully charming and beautifully written story, and a fitting end to a lovely series of stories about the importance of friendship first and foremost.
*I received a free copy of this book from NetGalley in exchange for an honest review.
Book blurb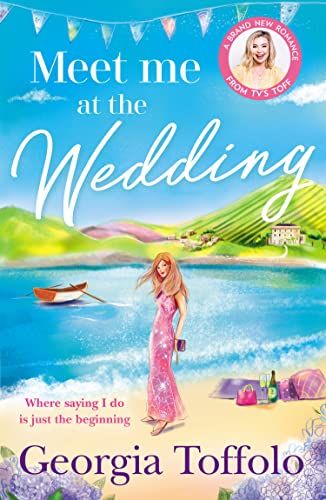 Where saying I do is just the beginning…
Lily loves living in Hawke's Cove, and planning her best friend's wedding at the Hawkesbury estate is the icing on the cake. But when the estate's owner dies, and his son cancels the wedding, Lily must face Henry Hawkesbury – a man she hasn't seen since that fateful night ten years ago…
Henry wants nothing more than to return to Hawke's Cove, sell his estranged late father's estate and leave. He certainly does not want to host a wedding, or face Lily, who gets on with everyone – except him!
But when Henry needs Lily's help, she will only provide it if the wedding can go ahead. Working together means both must face their pasts, and, in doing so embrace their future. But can two people afraid of love acknowledge what they have always wanted…?
More...
You can pre-order the book here now. It's being published by Mills & Boon on 28th April 2022.
If you want to know more about the author, you can follow her on Twitter, or head over to her Goodreads page.