Mind Over Clutter by Nicola Lewis
My review
3/5 stars
I love a good cleaning guide. I'm always looking for ways to get my house more organised, so any help I can get is welcome. The title on this book was what grabbed my attention - I'm pretty good at procrastinating, because it always feels like too mammoth a task. I did find part of what I was looking for, in the sense that there was a nice room-by-room breakdown to work around the house. There was a nice mix of prescribed methods and room to make it work on an individual level. The to do lists at the end of each room breakdown were a helpful summary and some of the top tips were really useful (though some of them felt a little out of place). A particular favourite was the packing tips that she gave towards the end of the book - they felt easy to apply and wonderfully simple in their approach.

I listened to this on audiobook, and while it was lovely to hear the author's voice and feel a more personal connection with the book, the content was a little jarring in that format. It's a book that needs to be processed physically in order to be really useful (for me at least) - I would need something to refer back to as I go. I also sensed that the author was nervous about reading her own book - there were times where she stumbled over the words she was reading, or took unnatural pauses that made the sentences flow wrong. I can appreciate that its not something that I'd feel at ease with either, but I have to admit that it made listening a little challenging at times - it made me focus more on the narration itself than what was being said.

It was a charming, quick read, the introduction gave a lovely insight into the author and why she does what she does for a living. It helped to get to know her a little before the practical solutions were offered up. I can see myself coming back to this book again to help with decluttering, but I'd want it in paperback.
Book blurb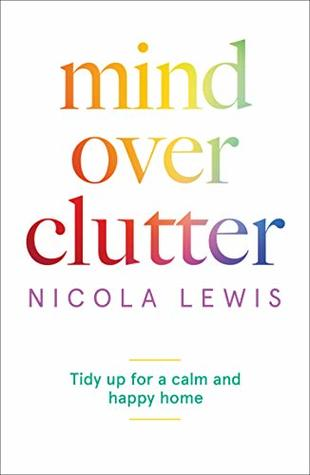 From the creator of This Girl Can Organise, the ultimate guide to decluttering your home in a fun, sustainable and meaningful way.
Are you drowning in clutter? Do you dread opening your cupboards because of the mess that awaits inside? Are you ready to sort out your house for good and discover a happier, calmer you?

If you've tried and struggled with Marie Kondo's The Life-Changing Magic of Tidying Up or Dana K. White's Decluttering at the Speed of Life, Nicola Lewis can help you finally achieve the tidy, clean and healthy home you've always wanted.
In this book, Nicola will arm you with the tools you need to clean and clear your home. With a step-by-step, room-by-room plan to get rid of clutter, recipes for natural, eco-friendly cleaning products and tips on upcycling your household items, housework and organising have never been this easy! From your makeup bag to your 'hoarders' garage, your home will be spick, span and sparkling.

Sections of the book include:
Nicola's Journey
Tidy Home, Tidy Mind
How to Declutter: Room by Room
Eco-cleaning Your Home
Upcycling and Donating
Decluttering to Go

Nicola sprinkles magic wherever she goes and she has seen  how decluttering and tidying your home can help transform your mind, bringing you new-found confidence and happiness. Filled with helpful tips and tricks, actionable insights and positive affirmations, this is the perfect book to refer to whenever you need help to tidy your life.
More...
You can buy the book here now. It was published by Thorsons.
If you want to know more about the author, you can head over to her website, check out her Facebook or Instagram pages, or view her Goodreads page.