Once Upon A Broken Heart by Stephanie Garber
My review
4/5 stars
This is not the type of book I usually go for, but both the blurb and the beautiful cover caught my attention, so I decided to try it out.
I'm glad I did. It was such an easy book to get into and get engrossed in; I had read the first half of the book in a little over an hour and finished it within a day. The worlds that the author created were easy to imagine without becoming dominant in the plot - the focus was all on the characters.
Evangeline was very accessible from the start even though her story started with a questionable decision. Following her inner monologue through the plot was entertaining and fascinating. Oddly, she seemed a little flightly when it came to romance though, given that it was the catalyst for her whole story. Her relationship with Jacks was the main point of my interest - the immediate connection, the witty banter, the need to rely on each other to solve their problems; it was all very well written.
Jacks himself was my favourite character and is what kept me reading avidly. He was incredibly intriguing. I know enough about him to feel for him and root for him despite his morally questionable behaviour, but I still have so much I hope to learn - there are depths to his character that are yet to be explored properly and mysteries to solve. I've come to understand that he features in the Caraval series by the same author, so I may need to go and read those while I wait for the next book in this series.
I liked that there were only a small number of secondary characters surrounding Evangeline and Jacks; it meant that the focus was kept almost solely on them and also that those characters were afforded more exploration and time. I was a particular fan of the ever-changing dynamic between Evangeline and her sister Marisol.
This was a well-paced, magical, enthralling story that entertained me far more than I expected it to; I'm already looking forward to the next part of the story.
Book blurb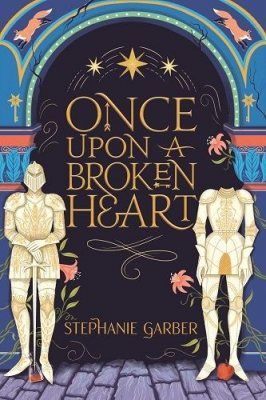 From the #1 Sunday Times bestselling author of the Caraval series, the first book in a new series about love, curses, and the lengths that people will go to for happily ever after.

For as long as she can remember, Evangeline Fox has believed in happily ever after. Until she learns that the love of her life is about to marry another, and her dreams are shattered.

Desperate to stop the wedding, and heal her wounded heart, Evangeline strikes a deal with the charismatic, but wicked, Prince of Hearts. In exchange for his help, he asks for three kisses, to be given at the time and place of his choosing.

But after Evangeline's first promised kiss, she learns that bargaining with an immortal is a dangerous game - and that the Prince of Hearts wants far more from her than she pledged. He has plans for Evangeline, plans that will either end in the greatest happily ever after, or the most exquisite tragedy . . .
More...
You can buy the book here. It's being published by Hodder & Stoughton on 30 September 2021.
For more on the author, you can check out her website, follow her on Instagram, or head over to her Goodreads page.