Romancing Mr Bridgerton (Bridgerton #4) by Julia Quinn
My review
5/5 stars
I've been looking forward to reading Colin's story since he was introduced in the first book and, while it wasn't quite what I expected, I was not disappointed.
The wit and humour that I expected was indeed present, but more predominately from Penelope Featherington than Colin Bridgerton, which caught me by surprise. Penelope has been a minor character up until now, but I really enjoyed reading her character development in this book. She was shown to be strong, sharp and sassy, whilst at the same time struggling to find her voice. This book is supposed to be about Colin, but the reading of it was much improved by the emphasis on Penelope.
Colin, previously painted into the position of family joker, was given a new depth and gravitas in this story, making him a more well-rounded character. He was shown to be as passionate and gentlemanly as his siblings before him, and was also given an artistic flair to explore. His most charming attributes, though, were his vulnerability, lack of surity and chivalry. There were moments where I felt him veering into self-pity rather than uncertainty but those moments served as character development and never became overwhelming. All considered, he is still my favourite Bridgerton brother (so far).
The relationship that flourished between Colin and Penelope was a strong friendship with shared wit and clear passion. Their interactions felt real and natural, and honoured the years of familiarity they would have had because of their family ties. At times, I found the fiery interactions between them to be a bit frequent, but on reflection I think they accurately portrayed the struggle of two people figuring out a new balance in their long-standing relationship. Both had pre-existing ideas of the other that had to be broken down and properly rebuilt for them to truly understand each other.
Aside from these two, I was absolutely thrilled that Lady Danbury was more present in this novel. Her acerbic jibes and devil-may-care attitude never fail to amuse me, so getting them regularly throughout the story was delightful. I also enjoyed seeing her softer side as she developed a friendship of mutual respect with Penelope. She was a brilliant plot device to help the reader see that there was more to Penelope than meets the eye.
As a side note, I also liked seeing more of Daphne again after a marked absence in the last two stories; we were given a glimpse into how settled she had become as the Duchess of Hastings. Eloise and Hyacinth were also more prevalent in this story, giving a tantalising hint of them both sharing the same Bridgerton levity as their older siblings.
And for the final plot point for discussion - the grand reveal of Lady Whistledown's identity. While I knew who she was going into the story, thanks for the Netflix series playing with the timelines a little, it did nothing to dampen my enjoyment of reading along with it. I will admit to being a little disconcerted at the change of format in the book as a result, but I thought it was well-handled and believable.
I had high hopes for this story, and while I did not get quite what I expected, what I did get was fabulously entertaining.
Book blurb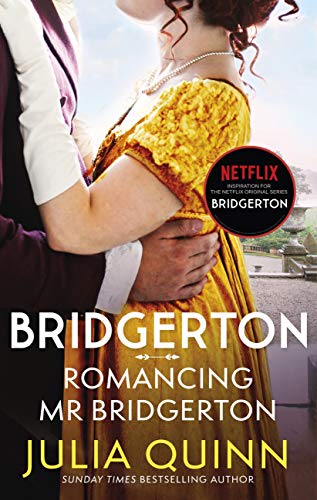 Everyone knows that Colin Bridgerton is the most charming man in London . . .

Penelope Featherington has secretly adored her best friend's brother for . . . well, it feels like forever. After half a lifetime of watching Colin Bridgerton from afar, she thinks she knows everything about him, until she stumbles across his deepest secret . . . and fears she doesn't know him at all.

Colin Bridgerton is tired of being thought of as nothing but an empty-headed charmer, tired of the notorious gossip columnist Lady Whistledown, who can't seem to publish an edition without mentioning him. But when Colin returns to London from a trip abroad, he discovers nothing in his life is quite the same - especially Penelope Featherington! The girl who was always simply there is suddenly the girl haunting his dreams. When he discovers that Penelope has secrets of her own, this elusive bachelor must decide . . . is she his biggest threat - or his promise of a happy ending?
More...
You can buy the book here now. It was published by Piatkus.
For more on the author, you can check out her website, follow her on Instagram, or head over to her Goodreads page.