The Book Of Life (All Souls #3) by Deborah Harkness
My review
4/5 stars
As I mentioned at the end of my review for book #2 in this series, Shadow Of Night, I was looking forward to reading the trilogy's conclusion ahead of watching the final series on Sky in the New Year. I wasn't disappointed.
I really revelled in not knowing how things were going to end and was really happy with how the story played out. There was drama, tension, family, love, and friendship abound. I loved going back and revisiting some familiar characters properly after the Tudor break in book #2; spending more time with Ysabeau and Marcus was particularly enjoyable.
Diana and Matthew got even more character development as we got to see yet another side of each of them, and their relationship together (no spoilers). Diana became even more familiar with her magic (fascinatingly so) and Matthew addressed some of the ghosts of his past. I only wish that we got to see more of Matthew as an individual rather than as a member of the family or a husband for Diana. This conclusion is very much all about Diana and how she finally solves the mystery surrounding the Book of Life.
I found the conclusion itself quite satisfying, as all the major plot points were rounded up, but I liked that some finer details were left open to interpretation. It gave the feeling that the characters' futures were open to multiple options after having been so seemingly fatefully decided during the three books.
I was also able to experience another fully immersive read thanks to the audiobook narration. Having reflected on the trilogy now, I can honestly say that I'm not sure I would have enjoyed the series as much if I'd read the physical books. The same can probably be said of the fact that I watched the series on TV first, as it gave me a head start on some of the pacing issues in the first book - I might have been put off by them otherwise.
I'm not normally big on fantasy books, but I would recommend the All Souls trilogy to anyone who showed an interest in it; especially as an audiobook experience.
Book blurb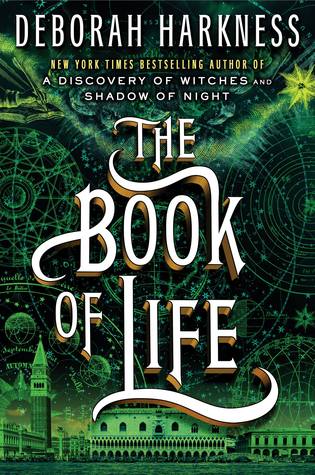 After travelling through time in SHADOW OF NIGHT, the second book in Deborah Harkness's enchant­ing series, historian and witch Diana Bishop and vampire scientist Matthew Clairmont return to the present to face new crises and old enemies. At Matthew's ancestral home in France they reunite with their families - with one heart-breaking exception. But the real threat to their future is yet to be revealed, and when it is, the search for the elusive manuscript Ashmole 782 and its missing pages takes on a terrifying urgency. Using ancient knowl­edge and modern science, from the palaces of Venice and beyond, Diana and Matthew will finally learn what the witches discovered so many centuries ago.
More...
You can buy the book here now. It was published by Headline.
For more on the author, you can head to her website, follow her on Twitter, or check out her Goodreads page.