The Bookshop On The Shore by Jenny Colgan
My review
4/5 stars
This was a slow-starter for me; it took me a few days to get into it. There was something about the characters and the setting that just didn't hook me in. I was determined to get through it though, as I've loved other Jenny Colgan books that I've read in the past. I'm glad I did.

Turns out that the slow start may actually have been an intentional writing ploy by the writer, as my interest in the book ending up reflecting the highs and lows of the plot-line, mirroring Zoe's feelings and attitude as it went. As soon as Zoe upped and moved to Scotland, the book started to pick up pace and I found myself invested in her life more and more as the book moved on. I went from thinking she was miserable and boring to seeing defiance, warmth and vulnerability in her that resonated with me more than I expected it to. I fell in love with all of the children, and by the end I didn't want to put it down. Ramsey was a realistic, reluctant male lead; it's nice to read a book that is willing to portray a man that has some serious flaws rather than the usual commitment-phobe trope that's found in these kinds of books (although I would have liked a better conclusion to the story-line with his kids' mother).

The reason the last star is missing from my review is two-fold. First, I feel like The Bookshop on the Shore is a slightly misleading title - don't get me wrong, there is a bookshop, and at times it is on the shore, but very little time within the book is spent there and it's not a central part of the plot. Second, at times it feels like there are a lot of different things going on and it got slightly overwhelming at times trying to keep up with it. I'm all for building a complete world around a main character to add depth to the book, but it's a fine line to walk between full and convoluted - that line was crossed a few times throughout the book.

In spite of these small niggles, I'd happily recommend this to anyone who wanted a light, cosy read, and I'll be reading more by the author in future.
Book blurb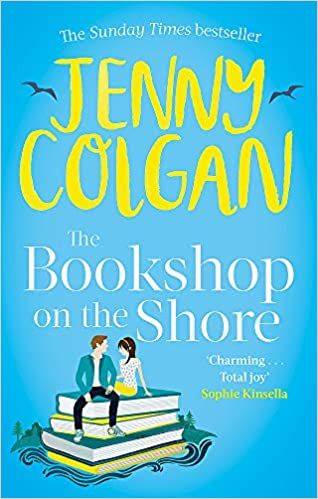 A grand baronial house on Loch Ness, a quirky small-town bookseller, and a single mom looking for a fresh start all come together in this witty and warm-hearted novel by New York Times bestselling author Jenny Colgan.

Desperate to escape from London, single mother Zoe wants to build a new life for herself and her son Hari. She can barely afford the crammed studio apartment on a busy street where honking horns and shouting football fans keep them awake all night. If she doesn't find a way out soon, Zoe knows it's just a matter of time before she has a complete meltdown. On a whim, she answers an ad for a nanny job in the Scottish Highlands, which is about as far away from the urban crush of London as possible. It sounds heavenly!

The job description asks for someone capable of caring for three "gifted children", two of which behave feral wolverines. The children's widowed father is a wreck, and the kids run wild in a huge tumbledown castle on the heather-strewn banks of Loch Ness. Still, the peaceful, picturesque location is everything London is not—and Zoe rises to the challenges of the job.

With the help of Nina, the friendly local bookseller, Zoe begins to put down roots in the community. Are books, fresh air, and kindness enough to heal this broken family—and her own…?
More...
You can buy the book here now, it was published by Sphere.
If you want to know more about the author, you can head over to her website, follow her on Twitter, Instagram and Facebook, or check out her Goodreads page.