The Cosy Christmas Teashop (Cosy Teashop #2) by Caroline Roberts
My review
3/5 stars

I was really looking forward to picking back up with Ellie in her castle teashop again, after having enjoyed the first book so much a few weeks ago, and with the added bonus of a festive read that seemed ideal for this time of year. Sadly I found myself a little disappointed.

Don't get me wrong, I still had fun spending more time with Ellie, Joe, Henry and Doris in the castle and seeing how their adorable teashop had developed since the end of the last book.  It was the easy-reading, warm-hearted experience that I expected.

BUT, it felt lacking in character development, especially for Joe, who had been so pivotal to the first book - he felt demoted to a minor sideliner in this story and it made me sad. The bulk of the story seemed to be an exercise in descriptive language writing - I could tell you more about the flowers at one of the weddings than I could about how Joe's life had changed in the five year gap.

My other bone of contention was the fact that this was sold as a Christmas story. Christmas wasn't featured in any way until page 220-something (out of 370 pages) and even then it was only a handful of pages, until we actually got to December in Chapter 29 of 37. The bulk of the book was set August - November and I only really felt festive in the reading of it in the last few chapters.

I read in the acknowledgements that the author had written the story in 4 months, and unfortunately that is obvious in the writing. There were spelling mistakes littered throughout the book and the story just didn't feel as well-rounded as its predecessor.

It was a painless way to spend a few hours reading, and I still managed to feel invested in the story because I was already familiar with the characters, but given how much I loved reading the first one, this one fell short for me.
Book blurb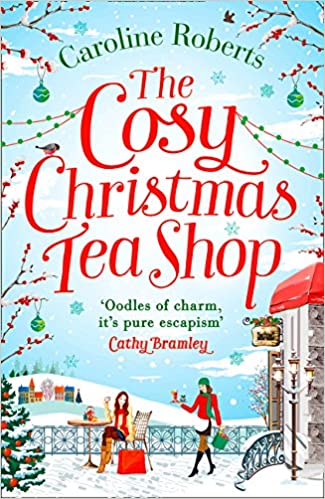 From sleigh bells to wedding bells . . .

After a rocky start, Ellie Hall baked her way into everyone's hearts at Claverham Castle – even the miserly Lord Henry was won over – and the run-down teashop regained its old sparkle.

Now Ellie has upgraded cupcakes for fairytale masterpieces as the proud caterer for an ever-growing list of weddings at the castle. The teashop team love baking to the tune of happy ever afters, but can they pull together when a certain bridezilla pushes them all to boiling point?

Christmas is just around the corner, and a last minute booking threatens to snow the team under. Ellie and her hunky hubby Joe have their own Christmas dreams to chase, but they're determined to pull through and give this special couple the winter wonderland wedding they deserve.

Will Christmas at the Cosy Teashop be a showstopper to remember?
More...
You can buy the book here now. It was published by One More Chapter.
For more on the author, check out her website, follow her on Twitter or take a look at her Goodreads page.