The Home Edit: Conquering the Clutter with Style by Clea Shearer and Joanna Teplin
My review
4/5 stars
It's no secret to anyone who knows me that I'm a lover of organisation. I read the books, I watch the TV shows, I buy all the drawer dividers, bins and baskets - my husband often jokes that organisation is my porn! So it should come as no surprise that I devoured The Home Edit series on Netflix in no time at all and became a fan of all things Clea and Joanna. Their first book has been on my Kindle for a while now and I finally got around to reading it.
While the Kindle formatting worked well compared to other books of its type, I'd be lying if I said that I didn't find myself wishing I'd bought a physical copy instead as I read through. My main bugbear was that each photo was given its own full page regardless of size, meaning that I had to flick back and forth to match labels and their info to the right part of each image. Format-wise, it is definitely intended to be a coffee-table book, and can only really be enjoyed fully in that format.
Speaking of the photos, they were beautiful - definitely Insta-worthy; they added a lovely colourful, visual element to the book. I very much appreciated the effort that had gone into making the book work for more than one learning style; for those who learn visually there were beautifully-shot images of how various spaces could be organised, and for those who learn by reading (like me) there was a detailed description to go with each image.
The content itself hit just the right mark in most cases. The tips they gave were just that, helpful and inspirational (oh to have a house that looks like their Instagram feed) but not prescriptive in any way. There is plenty of room for personal interpretation and preference in the experience and wisdom they share. I appreciated that instead of focusing solely on the technique, they spent most of the book exploring how the technique could be used in each room of the house, and they managed to do so without being too repetitive. My only qualm with the content was that I would have liked more of Clea and Joanna's personalities to come through the pages. It was there, but having come to the book from the Netflix show, I know there was room for more.
All said, I really enjoyed the book and it's a strong accompaniment to the show for anyone looking to inject a little The Home Edit image into their own spaces.
Book blurb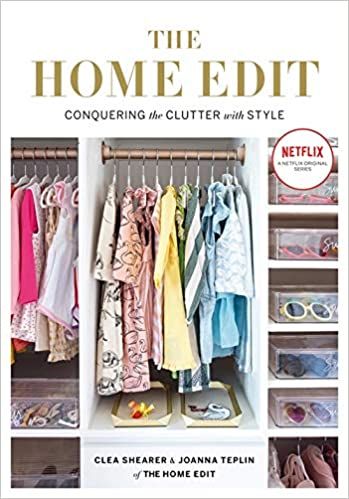 Believe this: every single space in your house has the potential to function efficiently and look great.
The mishmash of summer and winter clothes in the closet? Yep. Even the dreaded junk drawer? Consider it done. And the best news: it's not hard to do-in fact, it's a lot of fun.
From Clea Shearer and Joanna Teplin, the Instagram-famous home organizers who made their orderly eye candy the method that everyone swears by, comes a signature approach to decluttering. The Home Edit walks you through paring down your belongings in every room, arranging them in a stunning and easy-to-find way (hello, labels!), and maintaining the system so you don't need another do-over in six months. When you're done, you'll not only know exactly where to find things, but you'll also love the way it looks.
A master class and lookbook in one, The Home Edit is filled with bright photographs and detailed tips, from placing plastic dishware in a drawer where little hands can reach to categorizing pantry items by color (there's nothing like a little ROYGBIV to soothe the soul). Above all, it's like having your best friends at your side to help you turn the chaos into calm.
More...
You can buy the book here now. It was published by Mitchell Beazley.
For more info on the authors, you can follow them on Instagram (which I highly recommend if you're into organising anything at all!), check out their website, or take a look at their Goodreads page.