The Last Library by Freya Sampson
My review
4/5 stars
The blurb for this book really appealed to me when I read it, so I was thrilled to be approved for an advanced reader copy from NetGalley.
The characterisation in this book is absolutely it's best feature. On the surface, the story is about how to save the lirbary, but on deeper inspection it's really about how the library saved all the people in the community. The wide range of people and personalities did a fantastic job of illustrating just how impactful a local library can be, not just for education and literacy, but also as a community hub.
I was nervous that I wouldn't like June when I first started reading, so much so that I actually put the book down for a few days - her passivity was annoyingly painful to read at times. However, when I decided to push through and picked the book back up, I found that I warmed to her quite quickly. Her rediscovery of who she was without overwhelming grief ended up being a joy to read.
For me, the "secondary" characters that made up the library-using community of Chalcot were even more enjoyable to read about than June. Each had their own endearing quirks and interesting backstory that made the book feel whole and well-rounded. Stanley Phelps was, by far and away, my favourite of these characters, with his gentleness and chequered past - he was beautifully written and very touching.
The blurb made it sound like there was going to be a fair amount of focus on June's love life in the story but, on reading the book, I found that the romance element felt somewhat tacked on and a little forced. There was plenty of love to be had though, just not in an obvious way - this book is a real love letter to books, and specifically libraries. There were several books mentioned throughout the story, which any reader can take away as a further reading recommendation if they choose to do so. I've come away from reading this book feeling guilty about not using my local library more, so it's certainly done more than just provide a few hours of literary escapism.
This was a heartwarming, easy read that I ended up thoroughly enjoying despite my initial reservations.
*I received an advanced copy of this book for free from NetGalley in exchange for an honest review.
Book blurb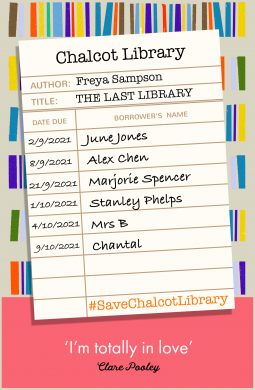 June Jones emerges from her shell to fight for her beloved local library, and through the efforts and support of an eclectic group of library patrons, she discovers life-changing friendships along the way.
Lonely librarian June Jones has never left the sleepy English village where she grew up. Shy and reclusive, the thirty-year-old would rather spend her time buried in books than venture out into the world. But when her library is threatened with closure, June is forced to emerge from behind the shelves to save the heart of her community and the place that holds the dearest memories of her mother.
Joining a band of eccentric yet dedicated locals in a campaign to keep the library, June opens herself up to other people for the first time since her mother died. It just so happens that her old school friend Alex Chen is back in town and willing to lend a helping hand. The kindhearted lawyer's feelings for her are obvious to everyone but June, who won't believe that anyone could ever care for her in that way.
To save the place and the books that mean so much to her, June must finally make some changes to her life. For once, she's determined not to go down without a fight. And maybe, in fighting for her cherished library, June can save herself, too.
More...
You can buy the book here from 31st August 2021. It's being published by Bonnier Books UK.
For more on the author, you can follow her on Twitter, or check out her Goodreads page.