The Secret Bridesmaid by Katy Birchall
My review
4/5 stars
I really enjoyed all of the individual characters in this story. Sophie was a worthy leading lady for the story, particularly for me as I found I could relate to some of her more neurotic tendencies (like overthinking and enjoying organising); she was a good mix of vulnerable and sassy. My favourite character was Cordelia, she was the perfect yin to Sophie's yang. It was obvious from the start that there was something more to her than met the eye, but I enjoyed the slow discovery that explained why she was cold, distant and mean with those outside her family circle - it provided many comedic moments throughout the book if nothing else!

I picked this book up expecting it to be a fairly stereotypical rom-com novel, and while I wasn't disappointed on that front, I was pleasantly surprised by the focus that was given to Sophie's friendships. Her relationships with Cara and Cordelia stuck with me far more than any romantic elements in the story; they gave the story a different type of warmth and made it even more charming to read through.

Adding further charm to the book was the mix of formats that was used throughout. While most of the book was written in first person present tense as we followed Sophie through her nuptial escapades as a bridesmaid, the occasional snippet of an email thread with some random wedding business or glimpse of a bridal party group text message sprinkled moments of light comedy throughout the story and bought a fullness and realism to Sophie's world for me as a reader. Some of the things that were discussed in those threads were absolutely genius and will feel humorously familiar to anyone who has ever been involved in a wedding party as a friend of the bride, or indeed as the bride herself. At first some of them seem far-fetched and have you laughing out loud (hello Chewbacca) but it only takes a split second for you to realise that they are indeed the very commonplace ridiculous requests made at many a wedding year in year out.

It didn't have me gripped as other books in this genre often do but it was a charming, entertaining read nonetheless and provided the light-hearted comedic romance that it promised.

* I received an advanced copy of this book for free from NetGalley in exchange for an honest review.
Book blurb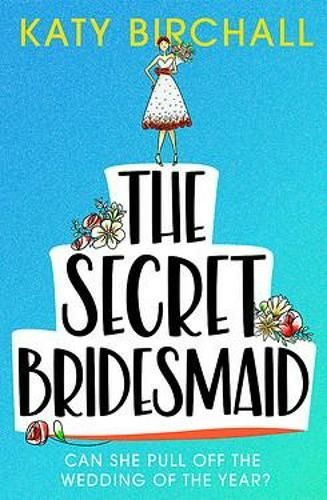 Matrimony meets mayhem in a modern British romcom about a young woman charged with pulling off the biggest aristocratic wedding of the year--and the misadventures that ensue.

Sophie Breeze is a brilliant bridesmaid. So brilliant, in fact, that she's made it her full-time job.

As a professional bridesmaid, Sophie is hired by London brides to be their right-hand woman, posing as a friend but working behind the scenes to help plan the perfect wedding and ensure their big day goes off without a hitch. When she's hired by Lady Victoria Swann--a former model and "It Girl of 1970's London; now the Marchioness of Meade--for the society wedding of the year, it should be a chance for Sophie to prove just how talented she is.

Of course, it's not ideal that the bride, Lady Victoria's daughter, Cordelia, is an absolute diva and determined to make Sophie's life a nightmare. It's also a bit inconvenient that Sophie finds herself drawn to Cordelia's posh older brother, who is absolutely off limits. But when a rival society wedding is announced for the very same day, things start to get...well, complicated.

Can Sophie pull off the biggest challenge of her career--execute a high-profile gala for four hundred and fifty guests in record time, win over a reluctant bride, and catch the eye of handsome Lord Swann--all while keeping her true identity a secret, and her dignity intact?
More...
You can buy the book here from 4 May 2021. It's being published by St Martin's Griffin.
For more on the author, you can check out her website, follow her on Instagram or Twitter, or head over to her Goodreads page.