The Windsor Knot (Her Majesty The Queen Investigates #1) by SJ Bennett
My review
2/5 stars
I don't normally read this genre of book; crime/mystery books are not my bag. However, this one grabbed my attention on the supermarket book shelf. Yes, it was the cover that did it, I'm that stereotypical. I'm a fan of the Royal Family, so the idea of the Queen solving crimes around the palace piqued my interest. Sadly, for me, I fell into the trap that "don't judge a book by it's cover" helps you try to avoid, only in reverse.
I didn't enjoy this book in the way that I'd hoped. So much so that I actually read the first half of it, completely lost interest and picked up a few books in the interim before coming back to it and making myself finish it. I think the main reason for this is that the main element of the book - the murder mystery - just didn't grab my attention at all. I felt little to no interest in finding out who had committed the crime or why. It was ok in the sense that I didn't struggle to read it, but it wasn't compelling in the way that you'd expect a crime novel to be.
Alongside that, some of the side characters in the book suffered for the focus that was placed on the queen. Sir Simon, in particular, felt wooden and hard to read. It meant that I found it difficult to completely immerse myself in the world that was being created by the author.
That being said, I steered clear of giving this book 1 star because I did really like the Queen-based elements of the story. Her character felt at odds with what we know of the woman in real-life and yet still felt strangely realistic. It was really well-written and I enjoyed a different perspective on a very well-known figure. It gave me enjoyment that was otherwise missing from the book for me.
It reinforced why I tend to avoid crime and mystery novels, but I'm glad I tried it rather than just sticking to what I know.
Book blurb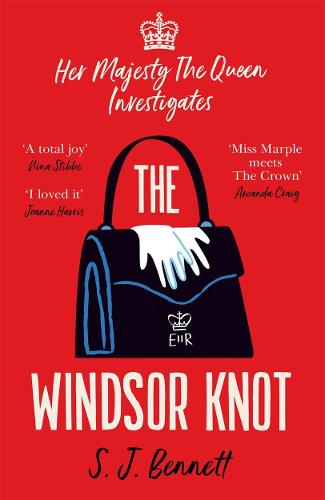 The morning after a dinner party at Windsor Castle, eighty-nine-year-old Queen Elizabeth is shocked to discover that one of her guests has been found murdered in his room, with a rope around his neck.

When the police begin to suspect her loyal servants, Her Majesty knows they are looking in the wrong place.

For the Queen has been living an extraordinary double life ever since her coronation. Away from the public eye, she has a brilliant knack for solving crimes.

With her household's happiness on the line, her secret must not get out. Can the Queen and her trusted secretary Rozie catch the killer, without getting caught themselves?
More...
You can buy the book here now. It was published by Zaffre.
For more on the author, you can head to her website, follow her on Instagram, or check out her Goodreads page.