Weird Things Customers Say In Bookshops by Jen Campbell
My review
3/5 stars
A collection of wacky and wondering things that customers have been heard saying in bookshops - Amazon/Kindle know what they're doing when they suggest books I might be interested in.
This was a very quick read, at just 130 pages, and I managed to read it cover to cover in under an hour. The format was simple - one set of quotes taken from conversations in one particular bookshop, followed by another set of quotes taken from a second bookshop, rounded off with a general collection from a multitude of different bookshops. It worked for what it was, but I did find myself wondering if the readability would have been improved slightly if the conversations had been organised by theme rather than by shop - it may not have been but I wondered nonetheless. I also would have appreciated something to tie everything together - I was initially thrown when the book pretty much opened straight into quotes and conversations, and think an introduction would have helped.
There was a nice mix of funny conversations, ridiculous questions and thought-provoking snippets. I found myself going from laughing out loud, to feeling frustrated at how ignorant some of the population are, and back again in a matter of half a page. I've picked out a couple of snippets that stood out for me when reading:
"It makes me sad that grown-up books don't have pictures in them. You're brought up with them when you're younger, and then suddenly they're all taken away."
I love this thought, as it's a perfect insight into how the brain of a book-lover sometimes processes the world. It's a wonderfully innocent, simple and yet somehow profoundly deep observation.
"Mummy, can we buy this book?"
"Put that down Benjamin, we have quite enough books at home."
God I hope to never be this parent. If my kids ask me to buy them a book, the answer will always be yes as long as I can afford it. Who wouldn't want to encourage that passion in their children? What a sad commentary on today's society.
The illustrations that were included were fun, but the book is already so light (both in content and content matter) that I'm not sure they were necessary. I did, however, really like that the author took the opportunity to draw attention to two independent bookshops.
A fast, fun frolic through several conversations that must happen on a daily basis in bookshops all over the world. Nothing spectacular but a nice little read all the same.
Book blurb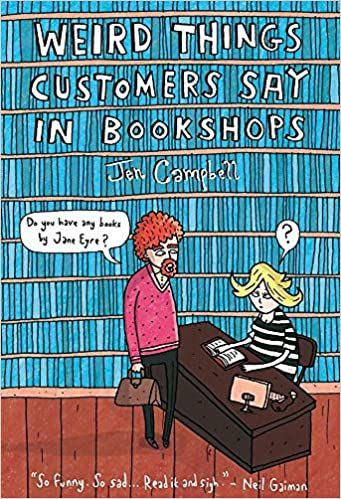 'Can books conduct electricity?'

'My children are just climbing your bookshelves: that's ok... isn't it?'

A John Cleese Twitter question ['What is your pet peeve?'], first sparked the "Weird Things Customers Say in Bookshops" blog, which grew over three years into one bookseller's collection of ridiculous conversations on the shop floor. From 'Did Beatrix Potter ever write a book about dinosaurs?' to the hunt for a paperback which could forecast the next year's weather; and from 'I've forgotten my glasses, please read me the first chapter' to 'Excuse me... is this book edible?'

This full-length collection illustrated by the Brothers McLeod also includes top 'Weird Things' from bookshops around the world.
More...
You can buy the book here now. It was published by Constable.
For more on the author, you can head over to her website, follow her on Twitter or Instagram, or check out her Goodreads page.