With This Kiss by Carrie Hope Fletcher
My review
5/5 stars
I've read one or two books by Carrie Hope Fletcher before and really enjoyed the more supernatural elements of the story, so I had high hopes for this one when I spotted it on the 'new in' shelf in the local bookshop... I was not disappointed.
Without spoiling the plot, the fantasy element was really intriguing and I thoroughly enjoyed how it developed throughout the course of the book. It never felt silly or unfeasible; it was very well written into an otherwise normal plotline.
Lorelai was a complicated lead character. She was a tad annoying at the start of the book, but the author cleverly used her flaws as jumping off points for some really interesting character development. It didn't take long for me to switch my viewpoint and start rooting for her; by the end of the book I really loved her.
Similarly, I thought Grayson as a male lead. He was incredibly supportive and trusting he was. He provided stability and calm in an uncertain and tense story. At times I actually enjoyed his character more than Lorelai's.
The relationships that built throughout the story were fantastically written. They were real, deep, meaningful and endlessly readable. This applies to all the relationships in the book, not just the romantic one; I particularly appreciated the relationship between Lorelai and her mum.
There were some darker elements to the story that I wasn't expecting, but they were incorporated in such a way that they never felt depressing or too tense. They added gravitas to Lorelai's transformation without changing the tone of the story.
In short, I loved this book.
Book blurb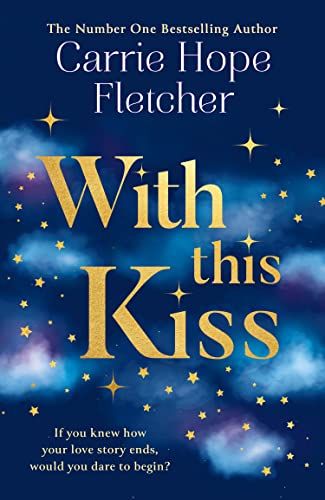 If you knew how your love story ends, would you dare to begin?
From the outside, Lorelai is an ordinary young woman with a normal life. She loves reading, she works at the local cinema and she adores living with her best friend. But she carries a painful burden, something she's kept hidden for years; whenever she kisses someone on the lips, she sees how they are going to die.
Lorelai has never known if she's seeing what was always meant to be, or if her kiss is the thing that decides their destiny. And so, she hasn't kissed anyone since she was eighteen.
Then she meets Grayson. Sweet, clever, funny Grayson. And for the first time in years she yearns for a man's kiss. But she can't…or can she? And if she does, should she try to intervene and change what she sees?
Spellbinding, magical and utterly original, With This Kiss is one love story you will never forget.
More...
You can buy the book here now. It was published by HQ.
For more on the author, you can head to her website, follow her on Instagram (she even has an account specifically for books), or check out her Goodreads page.