A View To A Kilt (Laura Lake #3) by Wendy Holden
My review
2/5 stars
I borrowed this book from the library because I liked the cover and the play on words in the title, not realising it was the third book in the Laura Lake series. Thankfully they can all be read as standalone stories, so it didn't affect my reading experience.
Sadly, several other aspects of the story did impact my reading experience in a negative way. The book was sold as a romantic comedy but I definitely didn't get that vibe from the story; it read more like a modern-day cheap rip-off of Miss Marple or Jessica Fletcher from Murder She Wrote for the millennial woman. There was nothing particularly wrong with the tone of the book, but because it wasn't what I was expecting, it detracted from my enjoyment.
On top of that, I didn't really connect with the main character - I'm not sure why, exactly. I can't put my finger on it, but I didn't feel any emotion towards her at all. I actually felt more connection with the purposefully-ridiculous secondary character Lulu, enjoying her scenes with her butler, Vlad, immensely. Laura irritated me at times - I found her to be overly self-obsessed and not incredibly interesting.
As a final note of disappointment, there were several editing mistakes that I spotted in the second half of the book that were jarring, including the wrong character name being used in a scene and extra words that clearly didn't belong in the sentence they were in. That combined with a ridiculous, overly built-up conclusion, led me to skim-read the latter part of the book just to get through it.
I can see from Goodreads that there are plenty of people out there that enjoyed this book, and indeed the rest of the Laura Lake series, but it wasn't for me.
Book blurb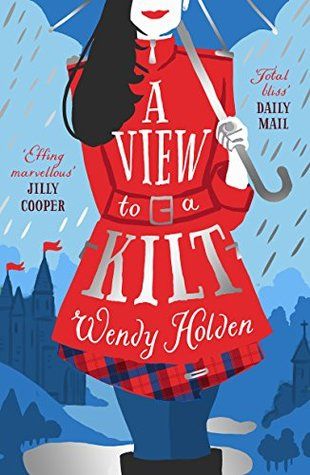 London's most glamorous glossy magazine is in trouble. Advertising revenues are non existent, and if editor Laura Lake can't pick them up, she's out of a job.
According to those in the know, Scotland is having a fashion moment. Smart spas are offering porridge facials, and a chain of eco-hotels is offering celebrity bagpipe lessons. So Laura's off to a baronial estate in the Scottish Highlands to get a slice of this ultra-high-end market.
It's supposed to be gorgeous, glitzy and glamorous. But intrigue follows Laura like night follows day. And at Glenravish Castle – a shooting lodge fit for a billionaire – Laura finds herself hunting for a scoop that won't just save her job, it could save her life...
More...
You can buy the book here now. It was published by Head of Zeus.
For more on the author, you can head over to her website, follow her on Instagram, or check out her Goodreads page.