Calm: Working through life's daily stresses to find a peaceful centre by Fearne Cotton
My review
3/5 stars
I listened to Happy earlier in the year and found it to be an easy, accessible discussion on depression, so with Calm seemingly being focused on anxiety (something I'm all too familiar with), I delved in for another listening experience.
Calm follows pretty much the same format as Happy - a mix of advice, personal experience, interviews with people who are relevant for the topic and opportunities for individual reflection. In general, the format works well, especially for keeping a lighter feel to what is a serious topic, but as with Happy, I'm not sure that all parts of the book work for audiobook, as there were a lot of times you had to refer to the accompanying PDF.
Given that I had this feedback about her previous book, it's sensible and obvious to wonder why I chose the audiobook format again this time. It's because Fearne Cotton's postivity and gentility is infectious to listen to. The honesty that is infused in the writing is doubled down on as a result of listening to the words rather than just reading them, as the author is given the opportunity to convey exactly what she means.
Anxiety is something that the author is open about having less experience with than depression, as it's a relatively new development for her; this is evident in the book. The tone felt more instructional than in Happy; instead of being "here's how I dealt with it, maybe that will be helpful for you", it felt like "here's what you should do". This may well be because of the lessened personal experience that the author has with this particular mental affliction potentially making her rely more on other voices for content than her own. Because of this, I found myself drifting away from the listening experience more often and less rapt in attention on the content.
Overall, it was a nice, easy listen to someone else's opinion on how to live better with anxiety, but I found it to be less meaningful or helpful than Happy.
Book blurb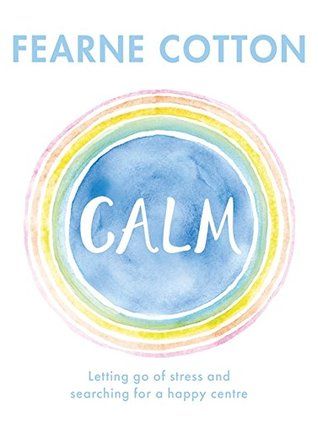 In today's always-on world, for many of us it seems impossible to relax, take time out or mute the encircling 'noise'. It is easy to feel trapped in this frenzied state of mind: we are surrounded by negative stories in the press, weighed down by pressures from work, family life or school and subject to constant scrutiny under the all-seeing eye of social media. As a result, mental health illnesses are on the rise in every age group, and more of us than ever before yearn for silence, peace and calm.
CALM is Fearne's mission to find the simple things that can inch us away from stress and over to the good stuff. Including expert advice, conversations with wise friends from all walks of life, easy ideas to try, activities to complete - and the little things that have made a difference to her own, sometimes-bumpy life - this book is a friendly reminder that Calm is a place that exists in us all, we just have to find our way back to it.
More...
You can buy the book here now. It was published by Orion Spring.
For more on the author, you can head over to her website, follow her on Twitter or Instagram, or check out her Goodreads page.