Jane In Love by Rachel Givney
My review
5/5 stars

As I've made clear on this blog before, I'm a sucker for anything Jane Austen related. She's been my favourite author for as long as I can remember, and I get great joy out of anything relating to the worlds she created. This book was recommended on a JA fan group that I participate in on Facebook and the premise sounded too intriguing to pass up.

Time travel isn't a topic in the books that I regularly read, but the idea of Jane Austen travelling to modern-day Bath was well executed. It didn't feel overdone or cheesy, it felt realistic and hit the right level of social awareness that you would expect from a writer like Austen. Witty observations were made, but in a non-judgmental way - it was nice to read. While time travel was a necessary plot tool, I never felt like it took over the story.

The budding romance between Jane and Fred felt natural in its development and walked the fine line between sweet and saccharine well. It's conclusion was both satisfying and realistic, which is really important when writing a story about one of the most famous romance writers of all time.

I also really enjoyed the developing friendship between Jane and Sofia; having her story play out alongside Jane's gave a nice added depth to the plot and the world created by the author.

I devoured the book in just a couple of short sittings and couldn't find anything about it to irk or irritate me. Loved it.
Book blurb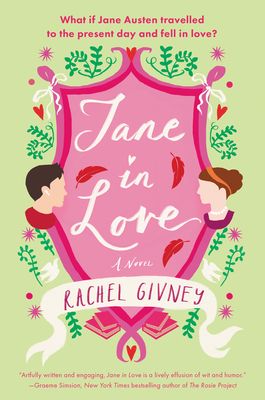 A charming, romantic debut novel in which Jane Austen, heralded author, ends up time-traveling almost 200 years in the future. There she finds the love she's written about and the destiny she's dreamed of...but is it worth her legacy?

Bath, England, 1803. At 28, Jane Austen prefers walking and reading to balls and assemblies; she dreams of someday publishing her carefully crafted stories. Already on the shelf and in grave danger of becoming a spinster, Jane goes searching for a radical solution—and as a result, seemingly by accident, time-travels. She lands in...

Bath, England, present day. The film set of Northanger Abbey. Sofia Wentworth is a Hollywood actress starring in a new period film, an attempt to reinvent her flagging career and, secretly, an attempt to reinvent her failing marriage. When Sofia meets Jane, she marvels at the young actress who can't seem to "break character," even off set. And Jane—acquainting herself with the horseless steel carriages and seriously shocking fashion of the twenty-first century— meets Sofia, a woman unlike anyone she's ever met before. Then she meets Fred, Sofia's brother, who has the audacity to be handsome, clever, and kind-hearted.

What happens when Jane, against her better judgement, falls in love with Fred? And when Sofia learns the truth about her new friend Jane? And worst of all, if Jane stays with Fred, will she ever achieve her dream, the one she's now seen come true?
More...
You can buy the book here now. It was published by William Morrow Paperbacks.
For more on the author, you can visit her website, follow her on Twitter or Instagram, or check out her Goodreads page.