Seven Kinds Of People You Find In Bookshops by Shaun Bythell
My review
3/5 stars
Another day, another quick bookish read about the types of people that frequent bookshops. This time, it was by an author I was already familiar with, having read Confessions of a Bookseller earlier in the year - Shaun Bythell, owner of a well-known antiquarian bookshop in Scotland.
Bythell takes the reader on a whistlestop tour of the seven different types of people (note the word customer is NOT used) that regularly come through his doors, and their various subtypes. He writes about them with an equal measure of frustration and affection, and always with his trademark acerbic wit. It would be very easy for a book like this to come across as mean, and it does walk the line at several points, but Bythell is good at balancing it out so that you understand why some of these people make him so grumpy.
There was a comforting sense of familiarity when reading about the types of people, I feel that I've seen some of them myself in my visits to multiple bookshops over the years. Some of the anecdotes felt hilariously and sadly recognisable, but none had me laughing out loud as I'd hoped they would - potentially because of the slightly aloof writing style giving an air of superiority to the author.
It was a nice quick read but I enjoyed the more in-depth offering that I read by the same author more than this one.
Book blurb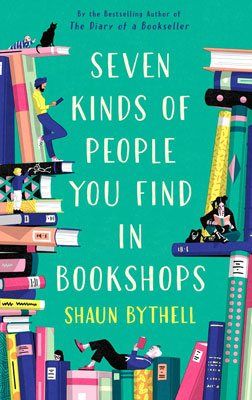 In twenty years behind the till in The Bookshop, Wigtown, Shaun Bythell has met pretty much every kind of customer there is - from the charming, erudite and deep-pocketed to the eccentric, flatulent and possibly larcenous.

In Seven Kinds of People You Find in Bookshops he distils the essence of his experience into a warm, witty and quirky taxonomy of the book-loving public. So, step inside to meet the crafty Antiquarian, the shy and retiring Erotica Browser and gormless yet strangely likeable shop assistant Student Hugo - along with much loved bookseller favourites like the passionate Sci-Fi Fan, the voracious Railway Collector and the ever-elusive Perfect Customer.
More...
You can buy the book here now. It was published by Profile Books.
For more on the author, you can head to The Bookshop website, follow the shop on Twitter or check out his Goodreads page.