The Pagemaster by David Kirschner and Ernie Contreras
My review
5/5 stars
I was at the library with my son recently and spotted this book on a shelf for older kids. I was instantly transported back to my own childhood, with memories of watching the movie adaptation of this story, starring Macauley Culkin and Christopher Lloyd (among others). I hadn't realised there was a book version available, so I was excited to get my nostalgia on and check it out.
What instantly struck me is that the film was very loyal to the book (from what I can remember of the film anyway), but it turns out that the book was released after the film's screenplay was written. It's a brilliant story, and translates well both on screen and on the page.
One of my favourite parts of the story is how it travels through so many beloved childhood classics, from Treasure Island to Moby Dick, with a few castles and monsters thrown in for good measure. It covers fantasy, adventure and even horror, in a child-friendly but real way. It's a fantastic way to introduce kids to the idea that reading can provide joy, thrills and escapism all at the same time, and expands the horizon for any young reader looking for inspiration on what to read next.
What I hadn't fully appreciated as a child is that this story is a love letter to libraries, and a commentary on how they are increasingly underused. The library provides physical shelter for a little boy caught in a storm, allows him the space to explore his own character and allows him to make friends with characters from a wide range of different worlds. The books themselves are desperate to be checked out of the library, and the librarian is thrilled at the idea of the boy wanting a library card. It's an even more important message now than it was when I was a kid, so to have it so easily wound into an exciting story is genius.
The illustrations in this particular version of the book (by Jerry Tirritilli) were absolutely beautiful and very immersive, particularly the full page pictures for each new genre that was introduced. They were instantly recognisable as familiar stories, and had a timeless quality to them.
I'm really glad to have stumbled over this gem in the library, and to have been able to reacquaint myself with a story that I'd loved as a child. I hope to introduce my kids to it when they're old enough, and borrowing this book from the library when it's time will be the perfect place to start.
Book blurb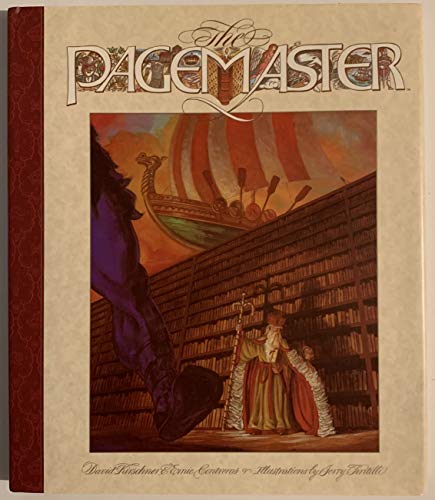 Books didn't really interest ten-year-old Richard Tyler. As far as he could tell they didn't cause mercury poisoning, earthquakes, or any of the host of other things that Richard was afraid of. This all changes, however, when Richard meets the Pagemaster, keeper of the books and guardian of the written word, and is plunged into a land where the world's greatest stories have become reality. Upon entering the realm of classic literature, Richard watches kindly Dr. Jekyll turn into the maniacal Mr. Hyde; comes face to face with Long John Silver, the meanest, most black-hearted pirate who ever sailed the seven seas; and is swallowed whole by a firebreathing dragon.

Timid and overcautious, all Richard wanted was to get out of a rainstorm and call his parents. Instead, he is given an adventure that will change his life forever. Joined by three unlikely companions-library books who have come to life-Richard is forced to confront his fears and find the courage he didn't know he possessed. What began as a young boy's quest for home and safety turns into a voyage of personal growth, friendship, and an appreciation for the power of books. Heeding the advice of the Pagemaste, When in doubt, look to the books," Richard learns lessons about literature, life, and humanity.
More...
You can buy the book here.