Top 10 Picture Books That I Read With My Son
I've been a big reader for as long as I can remember, and it's bought me much joy in my life, so I'm doing what I can to encourage that same love of reading in my son. He gets a bedtime story every night, and we read books for fun during the day too. He has many, many books that we read together, all of them picture books while he's as young as he is, but he has some that we keep coming back to time and time again. I've picked out our top 10 below (they are in no particular order) and written a little about why we both love them (obviously I've surmised on my son's behalf as he's only 3):
Written and illustrated by Janet & Allan Ahlberg. Published by Puffin in 1981.
What a classic. Peepo! has been a part of many childhoods since it was released in 1981. It follows a day in the life of an everyday family, as seen through the eyes of the baby in the house.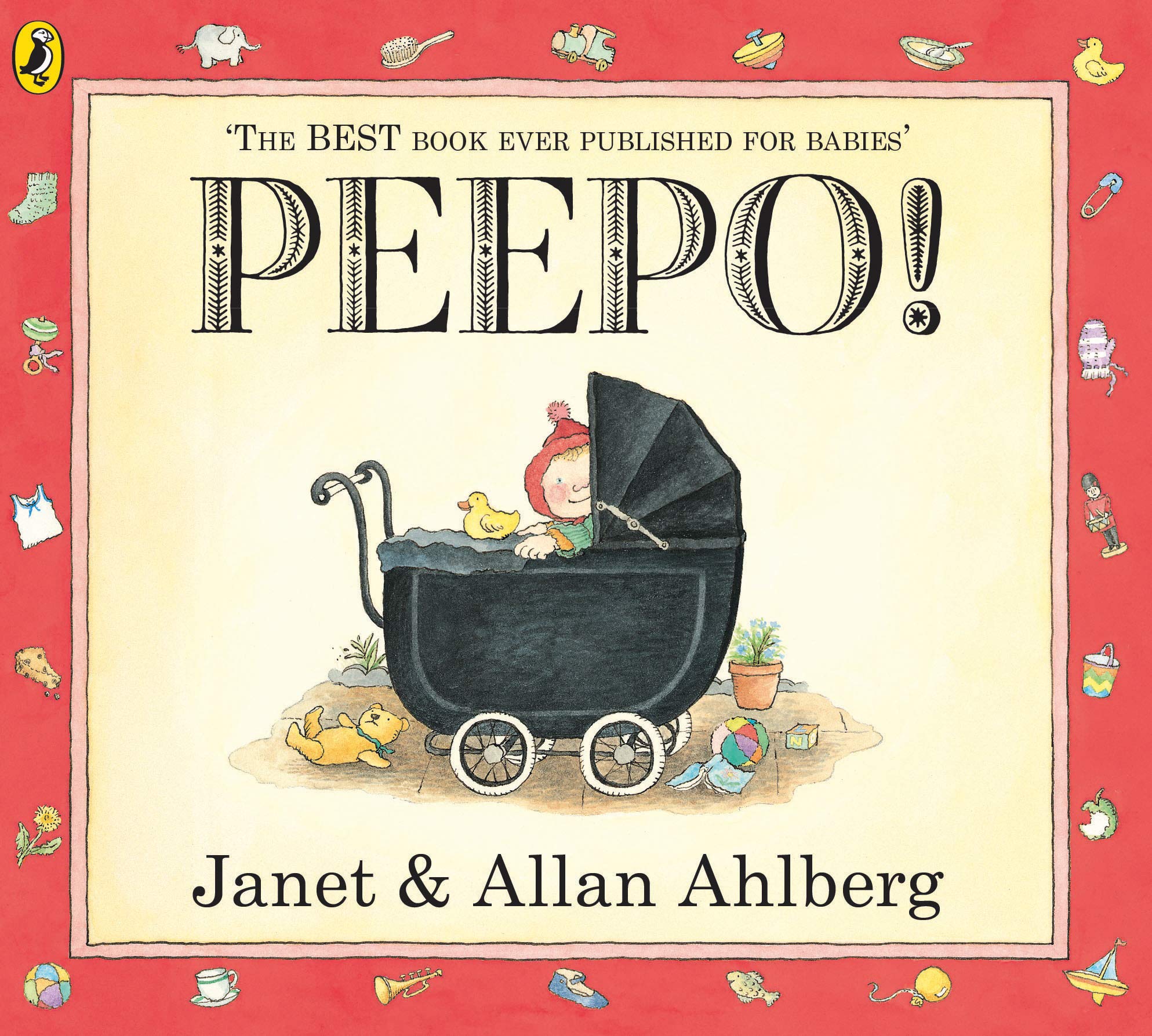 Why I think he loves it...
I'm not sure about other editions of the book, but we have the board book version, which is physically interactive for him; every other page is a peep-hole that gives a sneaky peek through to what the baby will see on the next page. My boy absolutely loves sticking his face up to those little holes and shouting Peepo! through them as we're reading. Peepo! is also an easy enough word for a child who is learning to speak to say, so it allows early involvement in the reading experience. Writing it from a baby's point of view also makes him feel included I think, because it resembles the days that he sees from his perspective. The rhyming in the story, and the repetition of the same phrase at each new activity make it easy for him to follow the natural rhythm (and fun for me to read).
Why I love it...
My favourite aspect of this book is the content of the plot; I love that it focuses on the seemingly mundane aspects of everyday family life and makes them interesting, showing how a baby views the world - through eyes of wonder and fascination. I also really enjoy the traditional nature of the illustrations, the fact that the family seem to be from an older generation make it timeless and the gentle colours allow it to retain it's fun while making it ideal for a quieter bedtime story (as long as I can persuade him not to be shouting Peepo! at every opportunity).
Written and illustrated by Judith Kerr. Published by HarperCollins in 1968.
Another modern classic, released in 1968 by the prolific and much loved children's author Judith Kerr, and a staple in many children's bedtime routines. Sophie is at home with her mummy, when a tiger knocks at the door and asks to be invited in for tea, proceeding to eat everything in the house.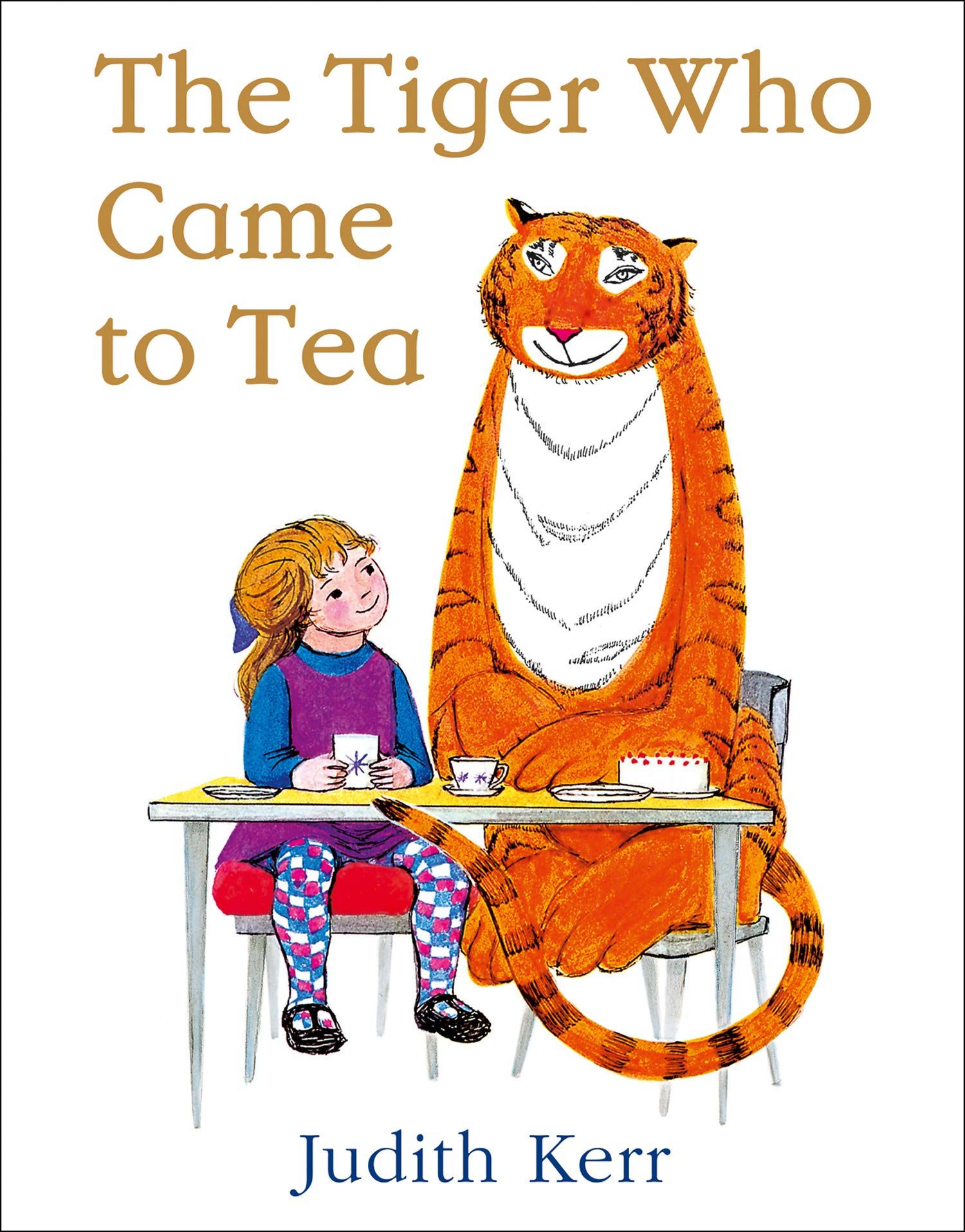 Why I think he loves it...
What child wouldn't love the idea of a tiger coming to tea and stuffing himself full of tea and cake. The concept of something as every day as afternoon tea being interrupted by a tiger fuels a child's imagination and immerses them in a fun, magical world outside of their own with a comfortable degree of reality. The illustrations really help with that, showing the tiger humorously routing around the kitchen cupboards, or drinking tea straight from the pot. The existence of a TV adaptation of this story has made it even more accessible for my boy, as he can visualise the plot that much easier and enjoy the story in multiple formats (and that Robbie Williams song is soooo annoyingly catchy - "Hey there tiger, glad you called, come on in").
Why I love it...
The calmness with which Sophie and her mummy handle a tiger showing up at their door for afternoon tea is a really subtle, ingenious way to teach a child the value of taking life as it comes at you. Instead of getting in a tizz and panicking, Sophie's mummy keeps a cool head and politely treats the tiger like any other house guest. As an adult, I'm able to read an element fear and power into it that wasn't there when I read the book as a child, but for my son it's a simple lesson on manners and handling life's surprises positively. There is also a similarly subtle message at the end about preparedness, with Sophie's mummy buying a tin of tiger food when she goes shopping, just in case the tiger should ever come to tea again.
Written and illustrated by Janet & Allan Ahlberg. Published by Heinemann in 1986.
The Ahlbergs are back again on this list, with yet another children's classic that I adored growing up and am thrilled to be able to now read with my son. The Jolly Postman follows a postie on his rounds through the fairytale kingdom, delivering letters, cards and promotions to well-known characters such as Goldilocks, Cinderella, the Big Bad Wolf and the Wicked Witch.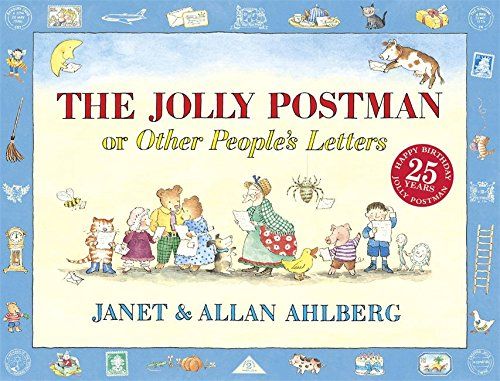 Why I think he loves it...
The main draw of this book for any reader, child or otherwise, is the fact that you can open the letters up and read them yourself as part of the story; he enjoys opening up each envelope and finding out which type of mail the postman is delivering to that particular character.
Why I love it...
It's not easy to find a book that holds a small child's attention for any period of time, but because he's required to open the mail at regular intervals, his interest is kept throughout the story. It's a fun way for children to interact with fairy tales non-traditionally, and allows the child in me to revisit some beloved tales from my younger days.
Written by Rachel Bright. Illustrated by Jim Field. Published by Puffin in 2017.
This is a book that I've been reading to my son since he was a baby and one that we've read so many times that the binding has actually started to break. It's about a koala called Kevin who is scared to leave the comfort of his tree and join in the games with his Australian Outback friends below. We also adore The Lion Inside and The Squirrels Who Squabbled from the same author/illustrator duo.
Why I think he loves it...
The animals - quite simply Kevin the Koala is a great character; he's warm, friendly, polite and likeable with an endearing vulnerability that makes anybody reading about him want him to succeed. Throw the other Australian animals in the mix (dingoes and the like) and it really opens up a child's world. The illustrations are also very eye catching as you read through, and make it easy for a young reader to get lost in the pages.
Why I love it...
The beautiful message that it gives about trying new things and pushing out of your comfort zone; it's a really lovely way to introduce the idea of change to kids and help them cope with things that might be making them anxious. The rhyming nature of the story makes it easy and fun to read aloud to him - I actually read it so many times that I had it memorised at one point.
Written by Ian Whybrow. Illustrated by Adrian Reynolds. Published by Puffin in 2005.
My little one was gifted this book by a grandparent and it fast became a firm favourite. It follows Harry and his tub of dinosaur toys on a family day out at the museum, where they learn all about their ancestors while walking around all of the exhibits. There are several other stories in the series, and we read them all together, but this one is definitely the one we read most often.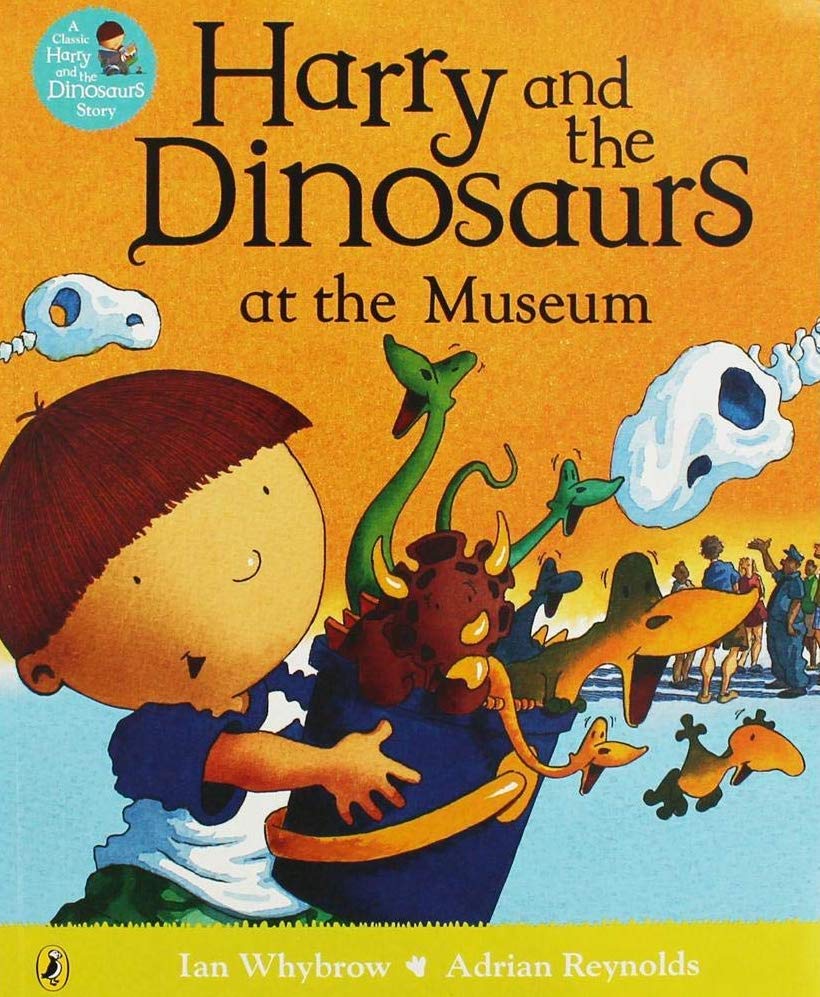 Why I think he loves it...
One word - dinosaurs. You'll be hard pushed to find a child who doesn't find at least some joy at the idea of a bucket of walking, talking dinosaurs to have adventures with. Additionally, Nan - my little one has a very close relationship with his Nana and I think he sees that mirrored in Harry's bond with his Nan. It's not often we've come across books where a nan character is featured as heavily as in this series and I think my boy really enjoys listening to stories where a little boy goes to his Nan for help and fun.
Why I love it...
One word - dinosaurs. As a child, I went through a bit of a dinosaur phase, and I have always found them fascinating creatures, so I have absolutely no issue with the fact that my son also seems to enjoy them. The whole series is a great way of introducing new ideas to kids, such as starting school and going for their first sleepover, and this one is no different; it's a gentle way of introducing the idea of how to stay safe on a day out without kids even realising what they're learning.
Written by Russell Punter. Illustrated by Andy Elkerton. Published by Usborne in 2012.
This was the first book we ever bought for our son, when I was still in my second trimester with him, so it holds special sentimental value for us. Aside from that, it has a lovely story. Sid is a dinosaur who likes to play pranks on his friends, but it soon backfires when he loses his voice and can't find his friends. He has to figure out how to get his voice back and how to help his friends.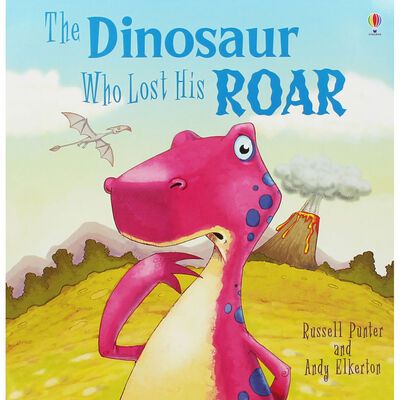 Why I think he loves it...
It's funny, it's silly and the dinosaurs are brightly coloured. Sid plays cheeky jokes on his friends that a small child would find it easy to relate to and laugh at. There's also lots of onomatopoeia that allows him to join in throughout the story because they are words that he can say with ease.
Why I love it...
It allows my son to appreciate the fun side of a prank whilst also teaching him that there are consequences to them. There is also a lovely emphasis on the importance of friendship and bravery for him to learn from. It's an easy book to read aloud and give a lot of life to, which means we both enjoy the reading experience that little bit more.
Written by Jodie Parachini. Illustrated by Caroline Pedler. Published by QED in 2015.
One of the lesser known books on the list, I think. I picked this up from The Works as part of their 10 books for £10 offer (seriously worth checking out if you have littles). It's about an elephant called Ellie, who wants a job but struggles to find the right one for her.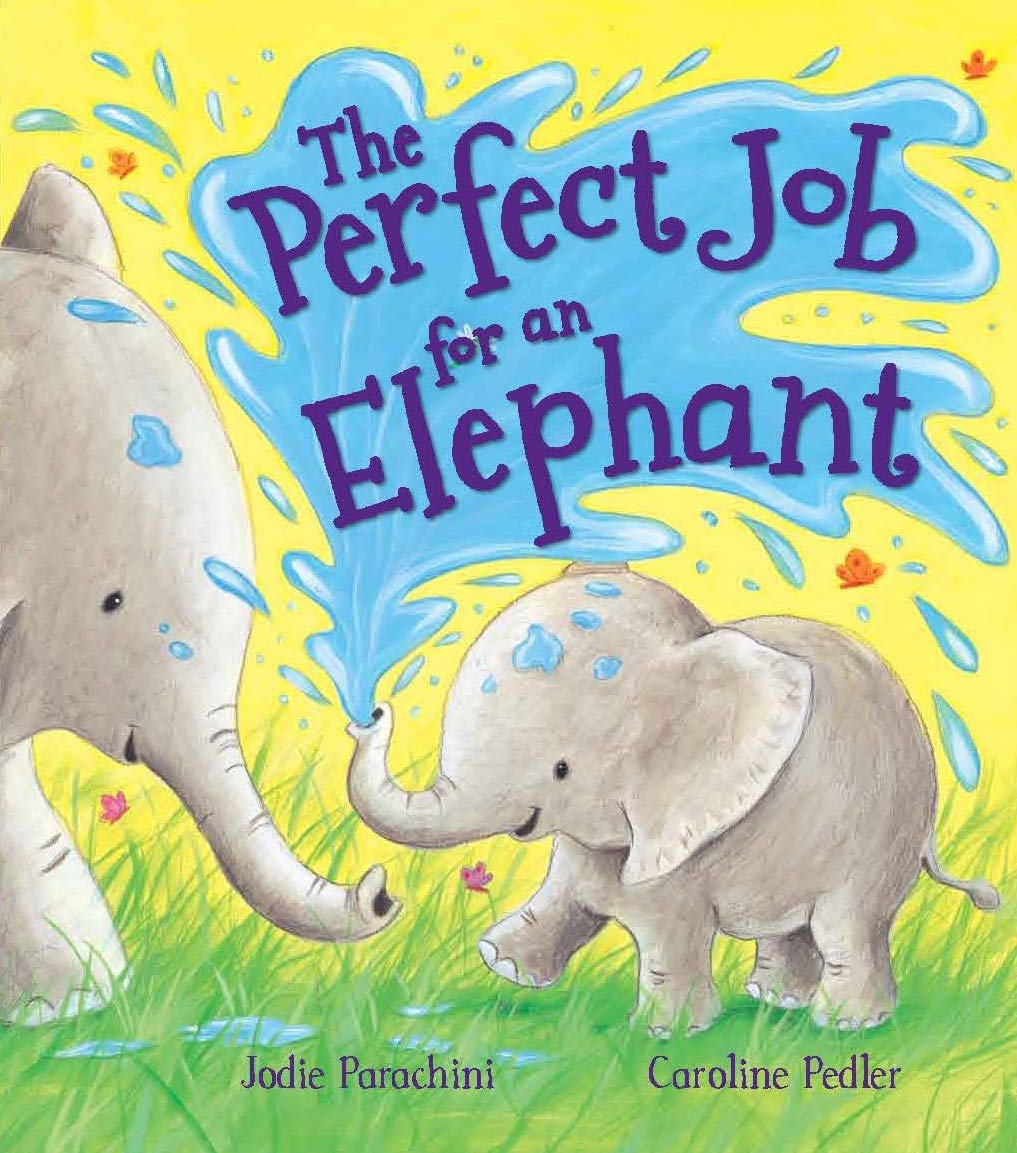 Why I think he loves it...
Watching Ellie try loads of different jobs and get them all wrong in some funny way is hugely entertaining for him. Equally as entertaining is the idea of safari animals doing human things like running diners and making pottery. I'm sure there's something in the idea of a small child wanting to do something useful that resonates with him, as he's always trying to help me with chores around the house.
Why I love it...
Because Ellie NEVER gives up - she's a wonderful example of determination to find her purpose and not letting other people's opinions put her off her goal; this is such an important lesson for kids to learn and I love that it's been wrapped up in such a cute little story. Additionally, the mum helping her to realise that everyone is good at different things and she just needs to find the thing that she's good at is lovely. The gentle illustrations make it ideal for bedtime reading, as they are fun but not something that is going to stir my little one into wanting to stay awake.
Written and illustrated by Roger Hargreaves. Published by Egmont in 2019.
Everyone loves a Mr Men or Little Miss story - you'd be hard pushed to find a child who hadn't seen at least one of the books. In this story, Little Miss Sunshine decides to take her friends on a bus tour of the United Kingdom. They travel the length and breadth of the country visiting a load of key visitor attractions, such as Hadrian's Wall, the White Cliffs of Dover, the Giant's Causeway and Blackpool Tower. The copy we have was printed in conjunction with the English Heritage and is sold in all of their gift shops (including online).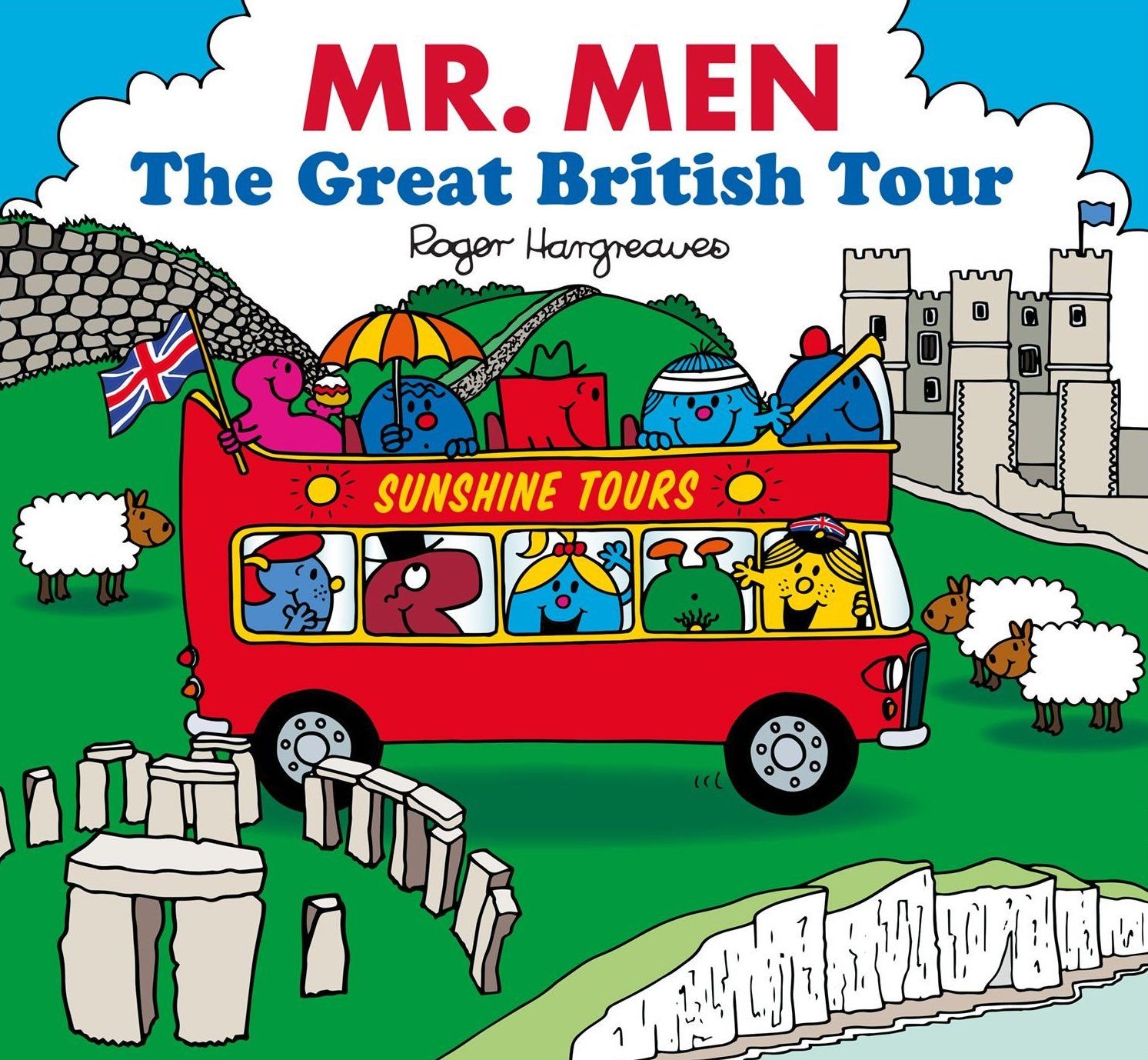 Why I think he loves it...
My kid has a distinct fascination with buses - to the point where we can't pass one in the street without him shouting "Look Mummy, bus!" - so I'm sure that a story that is all about using a bus to go on holiday sounds like the best idea ever to him. There's a wide variety of activities and days out discussed, which also serves as inspiration for little minds, such as canal boat rides, visiting the Eden Project and even having tea with the Queen. The characters are familiar to most readers but I'd like to reiterate again the simple genius of having characters associated with personality traits such as clumsy or proud or happy or worrier; it's an easy idea for kids to latch on to and identify with.
Why I love it...
It's a great way to expose my little one to the idea of travel and of all the wonderful things that he can do in his own home country; I especially love that our home town is featured as it gives me extra ammunition to tempt our little one out for exciting days out in our local area. The running undercurrent of Mr Worry being too afraid to enjoy any of the activities and then getting caught out at the end by something totally unexpected is a brilliant way to subtly drop a hint to kids about trying new things because you never know what will happen anyway.
Written and illustrated by David McKee.Published by Dobson Books in 1968.
Elmer was a big part of my childhood because it was one of my little brother's favourite stories. I'm now having an Elmer revival of sorts, as my son also seems to enjoy the story. Elmer is a patchwork elephant who lives in a herd of elephants who are all ordinary elephant colour - grey. He decides that he doesn't want to be different anymore and sets off on a mission to make himself look like the other elephants. There's a whole series of Elmer books, but so far we've only read the first (I do seem to remember my brother also showing an interest in a black and white elephant called Wilbur who shows up later on).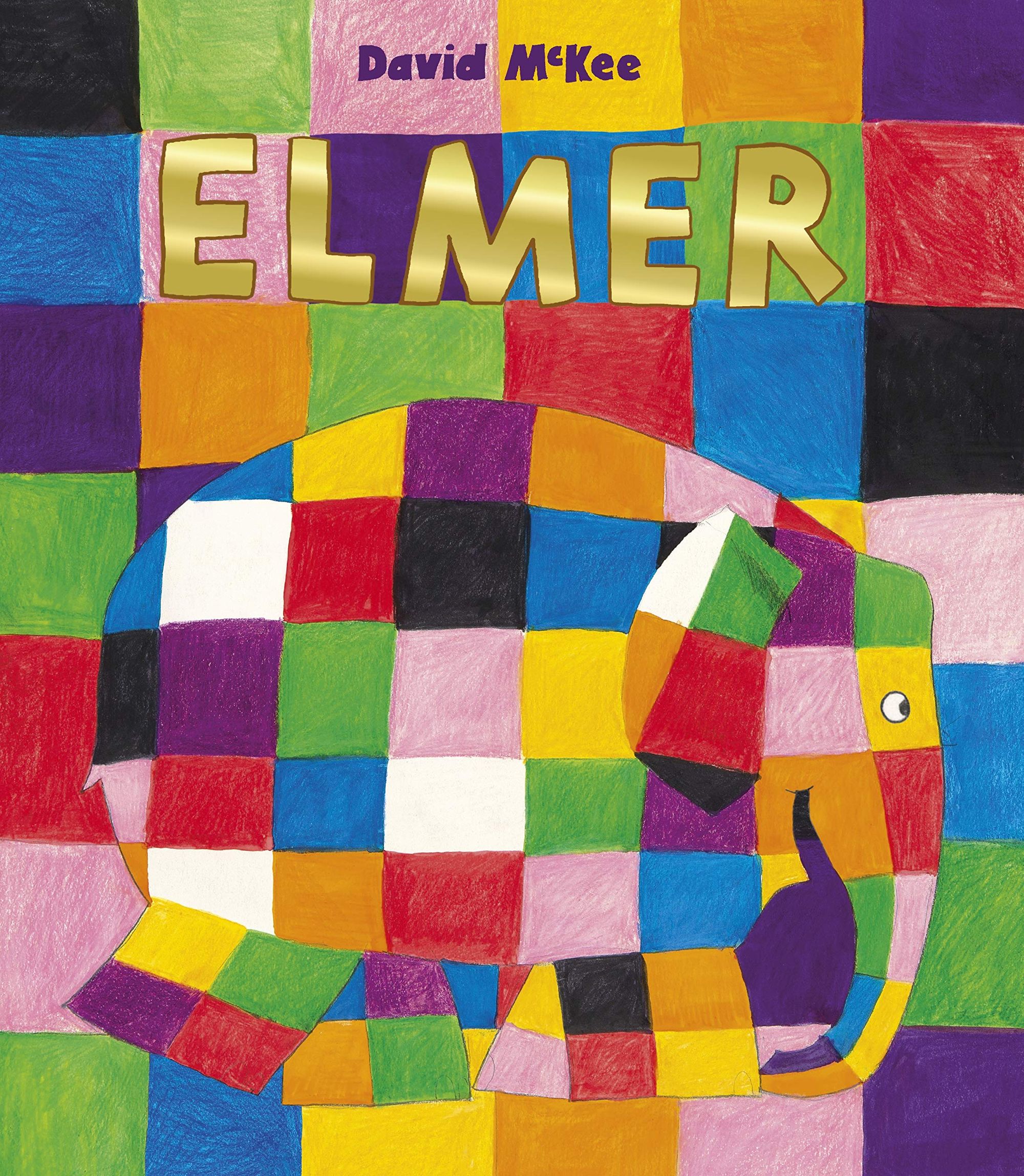 Why I think he loves it...
It's about a patchwork elephant - need I say more. All the colours are attention-grabbing for little eyes. The ending of the book is thought-provoking for kids, as it leaves them with the impression that all normal coloured elephants may well be Elmer on his annual dress-up day, which keeps the story alive outside of the 5 minutes it takes to read the book.
Why I love it...
Because it's a beautiful celebration of being different from the norm. Elmer worries himself into believing he has to be like the other elephants, but when he makes himself look like the other elephants, he realises that his colourful impact on their lives is bigger than he realises. It's a very positive, bright story that never loses it's magic no matter how many times you read it (which is hard to come across when your child wants the same story 10 times a day)
Written by Julia Donaldson. Illustrated by Axel Scheffler.Published by Alison Green books in 2016.
Julia Donaldson is popular for a reason, most little people I know enjoy at least one of her stories or have watched one of her adaptations, as popularised by the BBC on Christmas Day in the past few years. My son has several of her stories on his bookshelf, including Zog, Stick Man and The Gruffalo's Child, but The Highway Rat is the one that we've loved the longest. It's a story about a rat who greedily roams the highway stealing food from the other animal travellers, until he meets a duck who decides to teach him a lesson.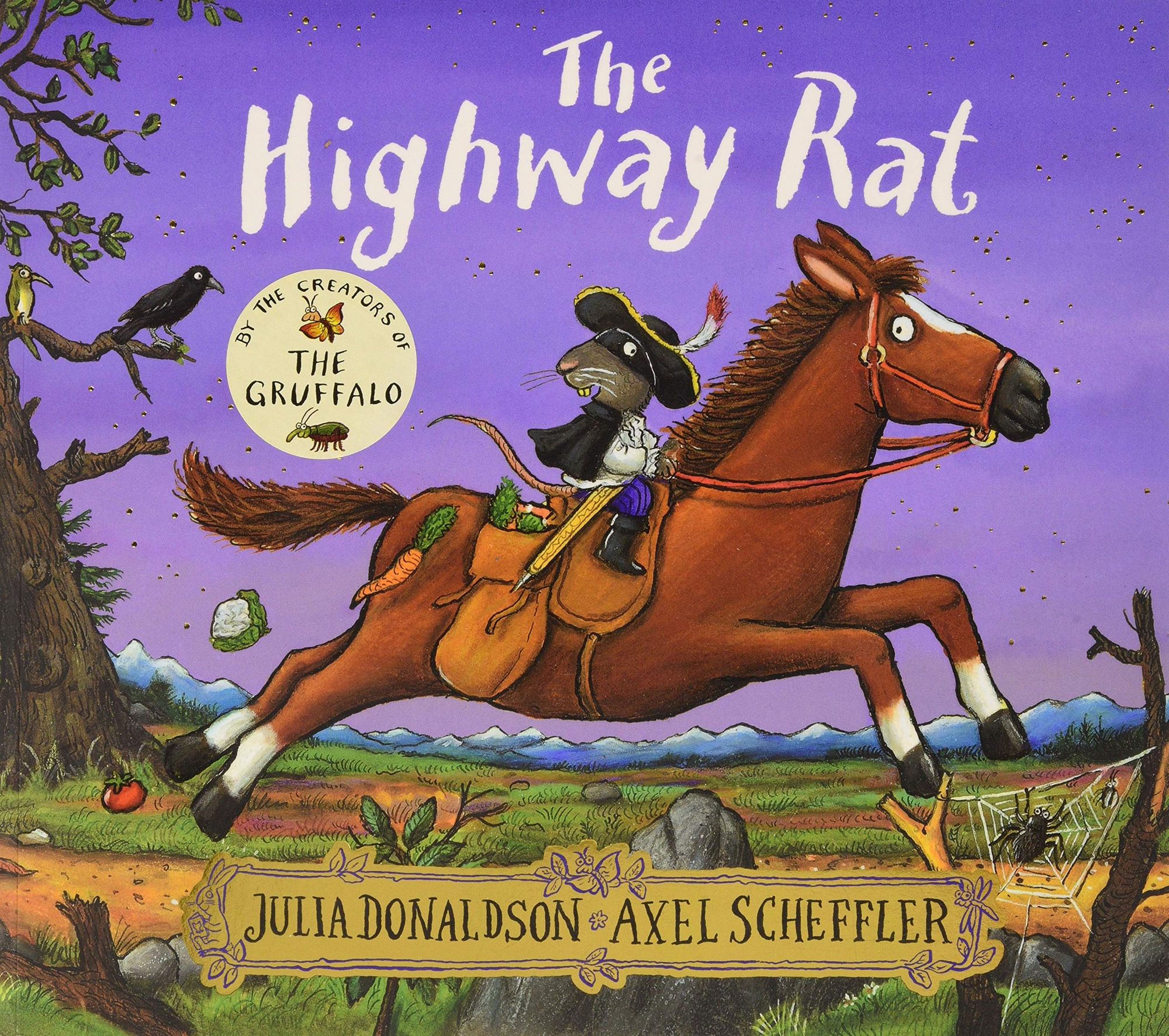 Why I think he loves it...
The concept of a highwayman was alien to my son the first time we came across this story, but it's one that he quickly latched on to (at the tender age of 2) and we soon found him holding us for ransom with anything he could pretend was a sword as we moved around the house; he wasn't quite able to manage saying stand and deliver, but it didn't stop up from understanding what he was trying to do. The repetition of certain points in the story make it possible for him to join in the story-telling with little difficulty. The availability of a TV adaptation courtesy of the BBC has enabled him to immerse himself in the story in another way and allows him to easily create a visual world for himself when we're reading the story together.
Why I love it...
The Axel Scheffler illustrations are beautiful, and make the book a joy to read through, as does the rhyming nature of the story - anything that allows me to find a natural cadence is more fun to read and more fun for him to listen to. The story itself encompasses some great messages about bullying and kindness, but is never forceful in how it demonstrates the lessons that need to be learned. The Highway Rat himself has been well written, because even though he is described as a baddie he is still a character that you feel something positive towards, and the duck is ultimately the story's hero but her actions in dealing with the bully are questionable, so both of these characters together are a fantastic example of how there is no such thing as totally good or totally bad.
Written by David Cadji-Newby. Illustrated by Pedro Seraphinos.Published by Wonderbly in 2012.
I thought this deserved a special mention in it's own right. It's a story that I read to my son all the time - a personalised adventure based on the letters of his name that was gifted to him by a friend not long after he was born. The idea is that a little boy (or girl) loses his name and goes on an adventure to find it, meeting various creatures along the way who help him. I've actually recorded this as an audio file for my son's Tonie machine, so he falls asleep several nights a week listening to me tell him this story.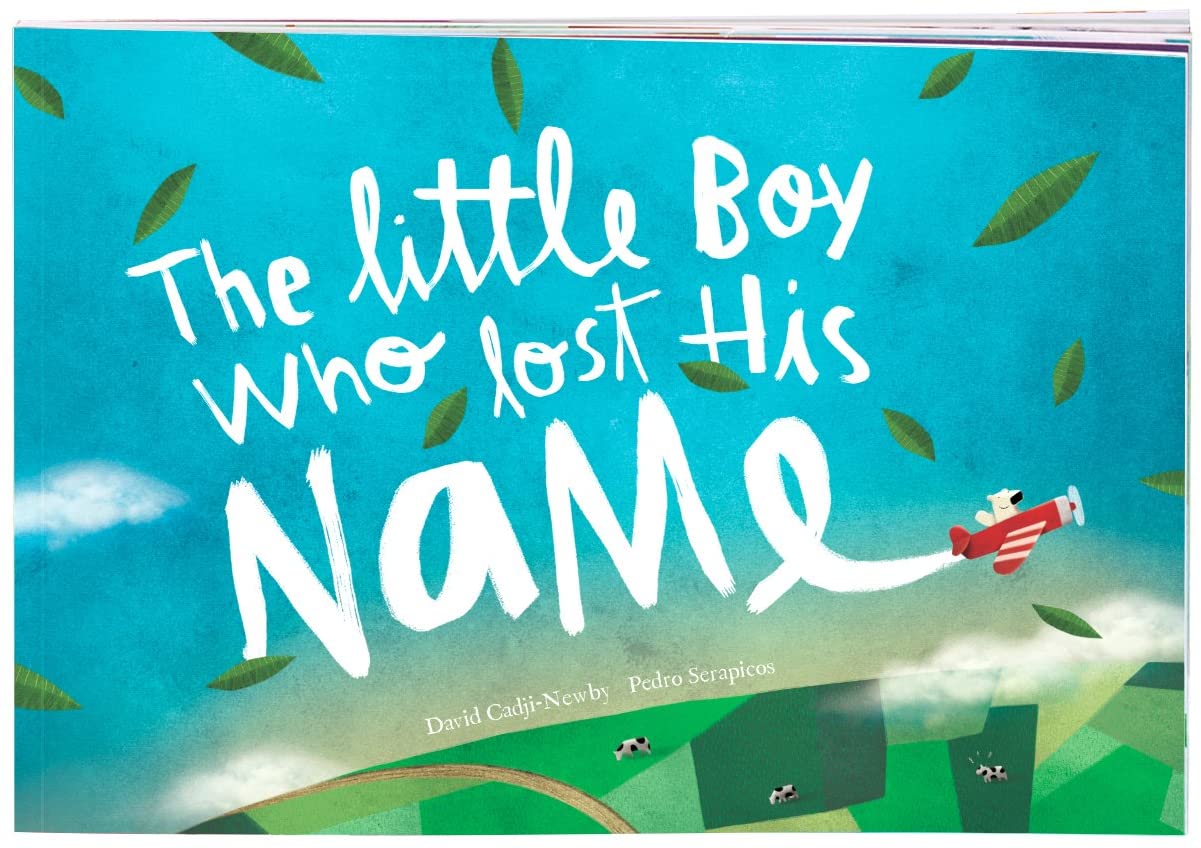 Why I think he loves it...
It's all about him so it's easy for him to imagine himself going on the adventure as the little boy and follow all the magical goings-on, even though it's written in the third person. The characters that he meets along the way are not always the obvious characters that you come across in a children's story (although some old favourites are part of the mix), so it feels fresh and different from other stories that we read together - characters such as jesters, narwhals, ostriches, okapis and chameleons, as well as mermaids, knights and robots.
Why I love it...
It's a fun way to teach my little one how to spell his name, as he can learn each letter through the character that represents it. It's a wonderful, gentle adventure that paints the little boy in a kind and helpful light throughout, setting a good example for my son, and the illustrations are absolutely gorgeous. As with many of the other stories in this list, it's a rhyming story, making reading easy and fun for both of us.
So there you have it, some of my favourite stories to share with my little human. There are hundreds of great books to read with kids of any age out there, make sure you make the most of them (well-known or not) with your little ones.